Lewis Hamilton says title fight with Nico Rosberg more intense than 2008 campaign
Briton says battling teammate tougher than tussle with Felipe Massa
By William Esler
Last Updated: 21/08/14 10:22am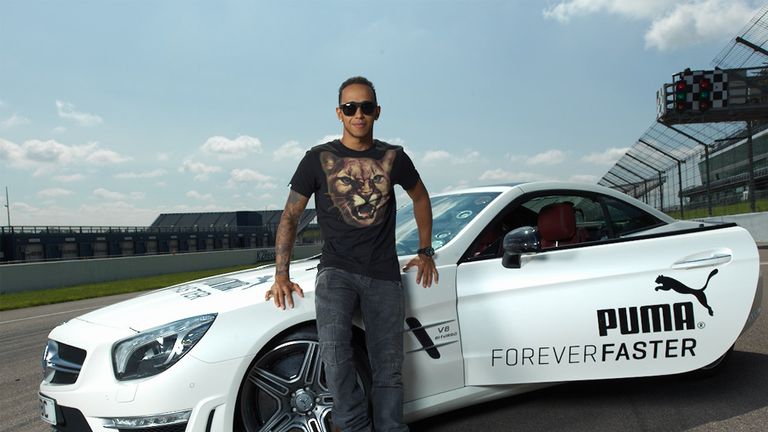 Lewis Hamilton feels this year's Drivers' Championship fight with Nico Rosberg is even more intense than his title-winning campaign in 2008.
A final corner pass on Timo Glock at the last race of the season in Brazil gave Hamilton - then a McLaren driver - his maiden title by a single point after a season-long battle with Ferrari pair Felipe Massa and Kimi Raikkonen.
This year, the Briton's solitary rival comes in the form of teammate Nico Rosberg meaning both have identical machinery to compete and Hamilton has likened it to playing poker whilst being able to see the other players cards.
"The battle does feel a lot more intense this year," Hamilton revealed at a Puma Forever Faster event. 
"When I was racing against Raikkonen and Massa, they were in a different team and their cars had different strengths and weaknesses to my car and, in my team, it was just me that was really competing with them.
"Now I'm racing against a guy who has the same car as me – we both have access to exactly the same data and feedback so it is really hard to try and be ahead. It's a little bit like playing poker - you have a set of cards and the other guy is not supposed to know what you got, but Nico and I can see each other's cards so then it's more difficult to beat each other."
Hamilton feels that having access to the same data and machinery means it is up to each driver to use their individual skill to create an advantage something he says makes it even more difficult.
"Definitely more challenging, because you have to find ways to create small margins," he added. 
"And so what you do is bring your skills, things that you've learned, things you can put into the mix. And you always have to move forward - you can't just be good and that will be enough, you have to keep pushing the boundaries, because every time you take a step forward the other guy makes an equal step so you have to keep doing it."
The battle between Hamilton and Rosberg resumes at Spa-Francorchamps this weekend live on Sky Sports F1 with just 11 points separating the pair.
PUMA is the official team partner of the MERCEDES AMG PETRONAS Formula 1 Team.