Nico Rosberg puts the brakes on Lewis Hamilton in Spa as qualifying woes continue
Englishman hasn't claimed pole position since May's Spanish GP but happy to start from second on the grid
By Pete Gill
Last Updated: 23/08/14 4:23pm
Lewis Hamilton has blamed a brake problem after once again enduring a frustrating qualifying as Nico Rosberg claimed pole position for Sunday's Belgian GP.
Despite being renowned as being the fastest driver in F1, Hamilton hasn't started a race at the front of the field since the Spanish GP in early May. In both Germany and Hungary before the summer break he was blighted by technical issues which resulted in him failing to progress past Q1 and he was left to rue another mechanical gremlin after failing to turn his practice pace into pole when it mattered most at Spa.
In sharp contrast, Saturdays have become increasingly profitable for Rosberg. His latest pole position was his fourth in succession and leaves the German ideally placed to increase his World Championship advantage over his Mercedes team-mate.

"It feels awesome to be on pole," said Rosberg. "It wasn't quite as difficult out there as other times because it was always intermediate conditions. At the end, I was feeling comfortable. But it's only qualifying and there is a long race tomorrow.
"I have a really good chance tomorrow," added Rosberg. "I need a good start and from there I am looking forward to it."
Hamilton was forced to abort his first flying lap after locking up at the first corner and appeared to make a small error into La Source on his second as well as he struggled under braking. Another blemish followed at Stavelot although post-race analysis revealed that Rosberg's wider line through the Bus Stop chicane was ultimately decisive as he secured pole by two-tenths.

"I had a glazed front-left brake which meant the car was pulling to the right and there was nothing l could do on the out-laps about it. I was struggling in the braking zone and losing massive amounts – particularly in Turn One," rued Hamilton.
"This is a circuit where you need to have confidence in the brakes but I was just going straight on everywhere."
Yet with Spa offering ample overtaking opportunities, the Englishman has no reason to fret unduly about his prospects in Sunday's 44-lap race. Indeed, after lining up ninth in Austria, sixth in Britain, 15th in Germany and in the pitlane at Budapest, a front-row starting berth constitutes his best result on a Saturday in over two months.
"I'm not too disappointed," added Hamilton. "If you look at previous years, P2 is usually the best place to start and gives you the best opportunities."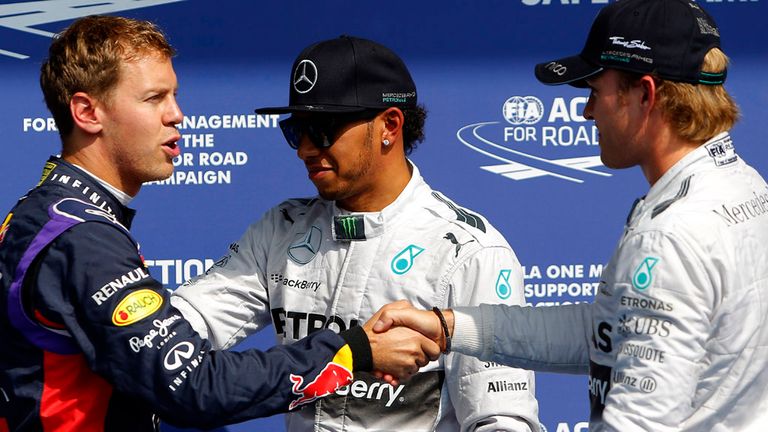 Hamilton knows this quirk only two well. Last year he started on pole ahead of Sebastian Vettel, but was passed by the Red Bull on the opening long run up the hill from Eau Rouge to Les Combes.
Crucially, Hamilton is confident that his Mercedes pit crew will be able to alleviate Saturday's brake issue in time for a race that is forecast to be in dry conditions.
"When it glazes, it is sometimes very difficult to recover – particularly in the wet," he explained. "But over the evening they are able to scrub it and hopefully in the dry it shouldn't be a problem."
Sunday's race starts at 1pm, with Sky F1's coverage underway at 11.30am.