Peace declared at Mercedes as Nico Rosberg and Lewis Hamilton display united front
Alonso keeps Mercedes drivers apart in tense Press Conference; Rosberg insists he won't be changing his approach despite Spa collision
By Pete Gill
Last Updated: 05/09/14 4:14pm
Attempting to draw a line under the controversy of last week's Belgian GP, Nico Rosberg and Lewis Hamilton have put on a united front in a last-ditch attempt to prevent the Mercedes team being split asunder.
With the fallout from their race-wrecking collision at Spa eclipsing all other topics of debate in the build-up to this weekend's Italian GP, the two title combatants inevitably found themselves at the centre of a media storm upon their arrival at the venerable Monza circuit on Thursday.
For the most part, they neutered the barrage with the sort of straight-bat defence that Geoffrey Boycott would have been proud of, parrying a tidal wave of media interrogation in Thursday's Drivers' Press Conference as Fernando Alonso, strategically situated between the two Mercedes drivers, assumed the role of 'ambassador of peace'.
The Spaniard was Hamilton's McLaren team-mate in 2007, the year in which F1 was last treated to such a volatile – and ultimately destructive – pairing and Kimi Raikkonen was gifted his only World Championship by McLaren's reckless implosion. With Daniel Ricciardo, the surprise success story of 2014 at Red Bull, hovering on the fringes of the World Championship battle following his victory in Belgium, Hamilton and Rosberg have, it seems, finally found common cause to bury the hatchet. Sort of.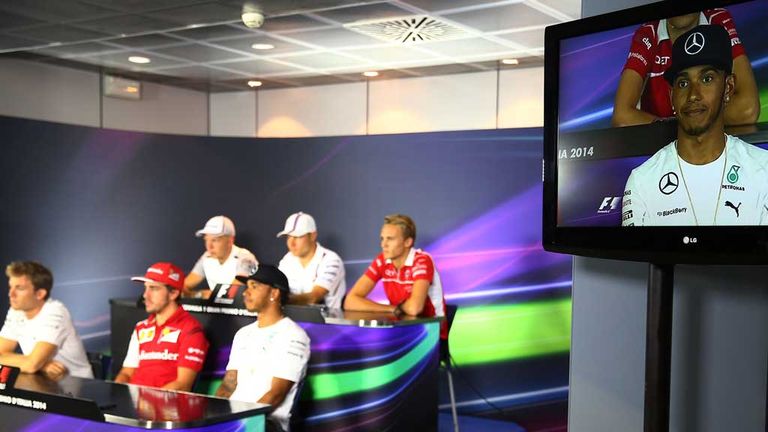 "What has happened in the past is in the past and it is what it is," declared Hamilton before dismissing suggestions that Mercedes were now a team divided.
"It is important for us to keep a good rapport between us so we can keep the team lifted up – we don't want one side of the team to want to do one thing. That is our job and we have to remember we are ambassadors for one of the biggest brands in the world, Mercedes Benz, so it is really important how we shine a light on that and that is what we are paid to do," he told Sky Sports News HQ.
"I genuinely feel that at least my side of the garage will always take the teams' side – that is their job, that is what they are hired to do. So it is not that they will take my side or Nico's side they take the teams' side they are like 'hold on guys we want to win together' so that is why the last race we could have had a one-two and it is really important that we do that for them."
For Rosberg, there were tougher questions to answer. Just what had prompted him to belatedly offer Hamilton an apology for his mistake five days after the event? "Time and the opinion of others," the German replied, thereby denying that he had been pressurised into doing so by the team. "They can't make me apologise, it was definitely a decision that came from me. After looking at it again, I felt that it was my responsibility."
How did he feel when he reviewed the critical incident? "I was not proud in Spa of how it went. I really want to contribute to our sport because I want F1 to be the most entertaining sport in the world".
And would he change his approach in view of what had occurred? "It's been very clearly from the beginning that we couldn't have contact between the cars and so from that point of view the approach doesn't change for the future".
Rosberg and Hamilton are believed to have shaken hands at an sponsor's event last week, but neither driver shot a single sideward glance during the 40-minute conference in which the only emotions threatening to boil over belonged to members of the tightly-assembled press conference. "Don't get emotional," a relaxed Hamilton advised one interrogator before Rosberg smiled wryly at a loaded suggestion he had been subjected to "a witch-hunt".
As the defences of both Mercedes drivers held firm, it was left to Alonso, beaming broadly at the notion he had been summoned to keep the peace, to offer the greatest illumination as he reflected on events seven years ago.
"2007 didn't work as we wanted but, as I've said many times, the problem was never with Lewis," mused the Spaniard. "We had a very professional relationship. It didn't work because the team wasn't happy with some of the philosophies and management at that point. But I never had a problem with Lewis and it isn't a surprise that today we still have a good relationship and I'm sure these guys will move forward. Both of them are in a privileged position of fighting for the World Championship and the sport is made of these kind of things. They have a good problem – fighting for the World Championship."
"Definitely Fernando is right," concurred Hamilton. "When you are young you make not always the right decisions and don't say the right things and I still don't always say the right things now. I'm still learning and I bet in ten years' time I will look back and say I could have done it better. That is the way it goes and we are both fierce competitors and we do want to win and personally I want to win because of my ability and fair and square.
"I am really excited about the races going forward and fighting hard as always. It has not been the easiest or smoothest season, but I wouldn't have it any other way."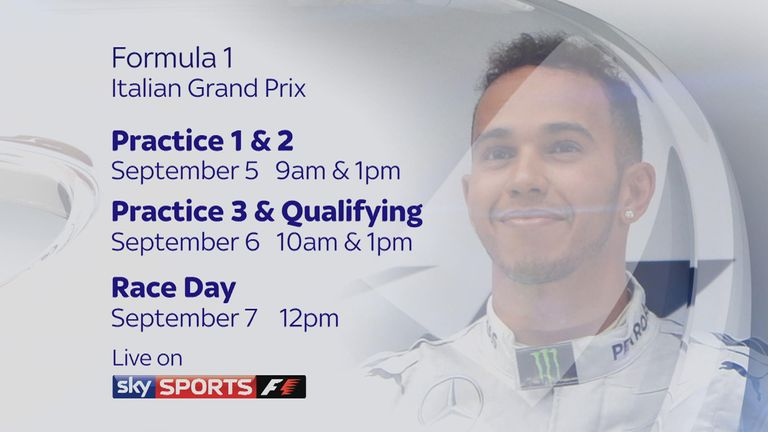 Sky Sports Exclusive: Lewis Hamilton Q&A
Has your relationship changed with Nico Rosberg?
"Not really any different to be honest. It is important for us to keep a good rapport between us so we can keep the team lifted up – we don't want one side of the team to want to do one thing. That is our job and we have to remember we are ambassadors for one of the biggest brands in the world, Mercedes Benz, so it is really important how we shine a light on that and that is what we are paid to do."
Fernando said in 2007 you were both a bit young and might have handled things differently. Is that what is in your mind now? That you need to handle this differently.
"Definitely Fernando is right. When you are young you make not always the right decisions and don't say the right things and I still don't always say the right things now and I'm still learning and I bet in ten years' time I will look back and say I could have done it better. That is the way it goes and we are both fierce competitors and we do want to win and personally I want to win because of my ability and fair and square. I am really excited about the races going forward and fighting hard as always. It has not been the easiest or smoothest season, but I wouldn't have it any other way."
It must be difficult for the two sides of the garage as yours will take your side and Rosberg's his – do you feel any division?
"I don't and I genuinely feel that at least my side of the garage will always take the teams' side – that is their job, that is what they are hired to do. So it is not that they will take my side or Nico's side they take the teams' side they are like 'hold on guys we want to win together' so that is why the last race we could have had a one-two and it is really important that we do that for them."
Are there any threats going forward, anything like if you're on pole Nico has to let you go and not challenge you?
"There is none of that, we are free to race and it is just very clear that they do not want what happened in the last race to happen. So it is just another normal weekend for me and we are just going to be pushing as hard as we can to move forwards."
Sky Sports Exclusive: Nico Rosberg Q&A
What brought about the apology?
"With time relooking at it and really listening and discussing with everybody that was in my team that had an opinion, all that has come together to in the end me coming to the conclusion that I need to accept responsibility for it and that it was my error of judgment, and I apologised for that. It wasn't any individual's opinion or something like that and I am very grateful because Niki [Lauda] for example has apologised to me personally since for those comments [of his] and that was a nice gesture and it is forgotten and on we go."
There were a lot of British fans at Spa and there are a lot of British fans here, are you concerned there might be a repeat of the booing if you get on the podium here?
"I hope they accept my apology with time. I fully understand they were not happy in Spa, because they came a long way to see a great race and it didn't happen. So I hope that with time they can just enjoy the battle that we are having."