Vettel: Team takes the credit
Sebastian Vettel has dedicated his pole position for the Bahrain GP to his sleep-deprived colleagues within the Red Bull team.
Last Updated: 21/04/12 3:14pm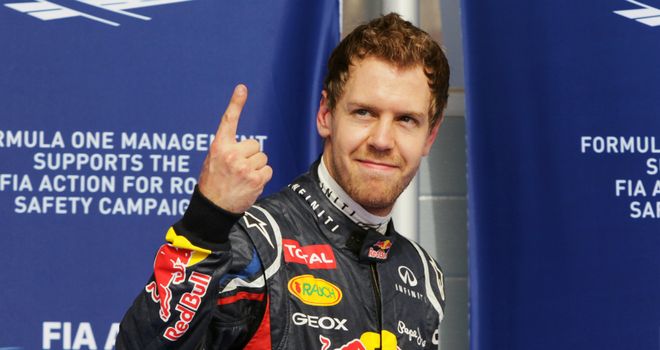 Sebastian Vettel has dedicated his pole position at the Gulf Air Bahrain Grand Prix to his up-all-night colleagues within the Red Bull team.
The reigning World Champion secured top spot in qualifying for the first time this season with a lap of 1:32.422 seconds at Sakhir.
Vettel had been out-qualified by team-mate Mark Webber in the first three races of 2012 and even failed to make it into Q3 at the previous race in China.
But the 24-year-old German hit back in Bahrain, showing the kind of pace that netted him a record 15 poles last season to finish just under a tenth of a second ahead of McLaren's Lewis Hamilton.
"It obviously feels great and this one I owe completely to the team and the guys," Vettel said as he reflected on his pole position.
"Obviously it wasn't an easy start to the season for us as there were a lot of expectations, but more than anything it's what we expect from ourselves and we didn't match our expectations.
"We've been extremely busy working on the car, trimming here and there and finding the perfect solution and the right way forward.
"I don't think the boys have had much sleep to be honest over the last four races. We had a tough weekend in China and now here they have had a serious lack of sleep."
He added: "It's very good to put the car on pole, the car felt much better all weekend.
"I didn't have the smoothest qualifying, I was nearly out in Q1 and nearly out in Q2 but I knew that when I nailed the lap we should be in a better place."