Fleet St laud Sebastian Vettel's Singapore drive but scale of win provokes debate
Newspapers also reflect on latest boos and Alonso's performance
By James Galloway
Last Updated: 24/09/13 11:53am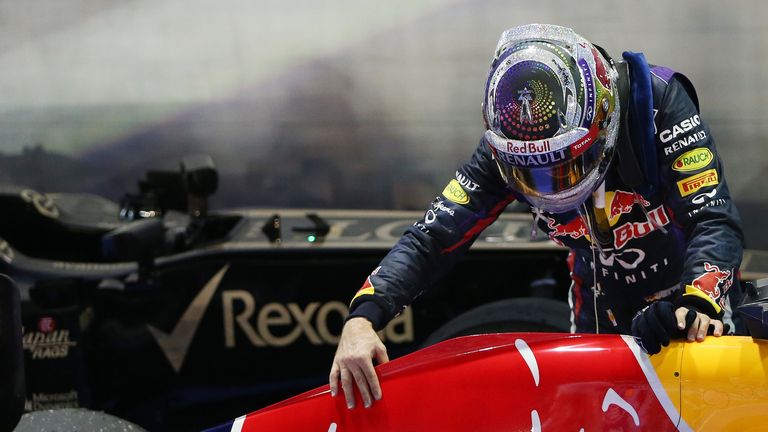 Vettel's third 2013 victory in succession on Sunday represented the most dominant of the whole season so far with the World Champion's 32.6-second winning margin the largest by any race victor since Lewis Hamilton's triumphed by 68 seconds at the rain-lashed British GP in 2008, and the biggest in dry conditions since Kimi Raikkonen at the 2005 Hungarian GP.
Writing in the Daily Telegraph, Tom Cary said that with a fourth straight championship now all-but assured for Vettel, the debate over which aspect of F1's dominant combination - driver or car - was more pivotal to the increasingly predictable outcome would continue to rumble on.
'Red Bull's runaway championship leader extended his lead still further in this year's title race with a demonstration of such control and power that his rivals may as well give up now,' Cary wrote.
'Vettel's winning margin - more than 32 seconds from Ferrari's Fernando Alonso - would have been greater still but for a safety car mid-race that bunched the field. Such was the German's dominance - he was pulling away from his rivals at two seconds per lap at times - it was bound to raise the hoary old question: is it Vettel's brilliance or is it the car he is driving?'
With the latest round of boos directed at Vettel on the Singapore podium undoubtedly party linked to the relentless nature of the 26-year-old's success, The Times' Kevin Eason mused: 'The schizophrenic boo boys lined up for their predictable chorus directed at F1's nemesis, the driver lambasted for being good at his day job. And how good - or, at least, that was the debate bouncing around the paddock late last night as the teams dismantled their kit...
'Was it the man or machine that scrambled brains and sent calculators into meltdown over two searing hours on the streets of Marina Bay? Perhaps it was the superhuman scale of achievement highlighted by the whirring stopwatches that could barely keep pace with Vettel.'
Reflecting on what has become the now fortnightly jeering of F1's standard-bearing driver, The Guardian expressed sadness that the wider celebrations of Vettel's 'awesome' performance hadn't been more heart-warming.
'Tom Jones was in the paddock here yesterday and it would have not been inappropriate if he had jumped on the podium at the end of the race and banged out It's Not Unusual. It was his first great hit, dating back nearly half a century, and that, it seems, is about as long as Sebastian Vettel has been dominating Formula 1,' Paul Weaver wrote.
'But instead of a sing-along led by Jones a more discordant note was struck last night as Vettel was jeered as he took his podium place alongside Alonso and the third-placed Kimi Raikkonen. It brought back memories of the uncomfortable reception he was given at Silverstone and Monza earlier in the season.'
And while there was also widespread applause for Fernando Alonso's own performance as the Spaniard surged from seventh to yet another second place - The Times describing the Ferrari number one as a 'miracle worker' - no one in Fleet Street was in any doubt that Vettel will be crowned a quadruple champion come season's end.
'His third win in three races gives him the biggest points advantage he has ever enjoyed. It increased from 53 points to 60 with six rounds remaining and Red Bull can really afford to relax and accept that even Fernando Alonso's hopes are slim," the Daily Mirror's Byron Young wrote.
'The Spaniard needed to win to have any chance in the championship. But the best he could do against this man-machine was second. Having started seventh the Spaniard was, yet again, at his relentless best.'