Red Bull unveil the RB10, the car they hope will lead them to a fifth straight title
Vettel joined by new team-mate Ricciardo at Jerez
By Mike Wise
Last Updated: 28/01/14 3:36pm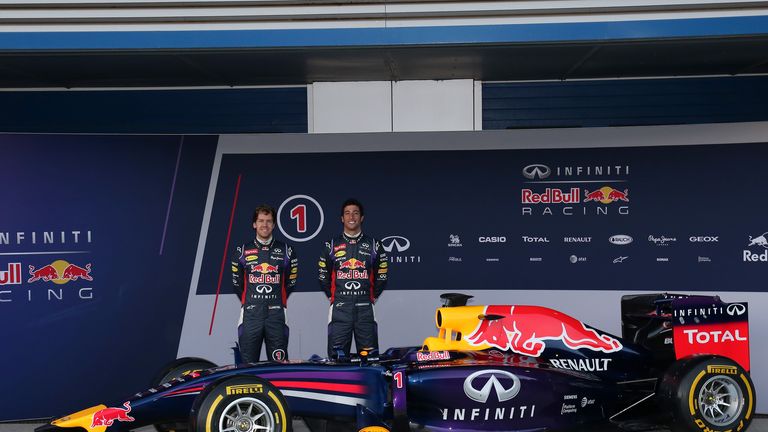 Sebastian Vettel, himself targeting a fifth consecutive title, helped pull the wraps off the RB10 with new team-mate Daniel Ricciardo. The car is Red Bull's first attempt at maintaining their dominance in the face of Formula 1's fundamental technical shift this season.
"It's a big change for all the teams, including ourselves," Vettel said of the switch to V6 turbocharged engines featuring much more powerful energy recovery systems. "I think the last couple of years, we always knew - kind of - what to expect, which is very different this year.
"Therefore, I think it's difficult to have any sorts of expectations. So I think the most important thing is, once we get going, [to] understand the car, to understand what it needs and then hopefully build on to that."
The 26-year-old German is scheduled to give the Renault-powered car its first run on Tuesday and will also drive on Wednesday before handing over to Ricciardo, who has joined the Milton Keynes-based team from sister outfit Toro Rosso.
"I think the season ahead is going to be very exciting but very challenging," the 24-year-old Australian said. "It's something I've been looking forward to for a few months now, that's for sure.
"For me, it's another big step in my career but with all the rule changes for the team as well, it's exploring new ground. So challenging for everyone, but we're all ready and excited."
Unlike F1's last big rule change in 2009 - to which Red Bull reacted better than any of their rivals - the emphasis this time around is on the new hybrid power units.
Red Bull will therefore be looking to engine partner Renault more than before but Team Principal Christian Horner is confident the French manufacturer can deliver.
"The reset button has essentially been pressed for 2014 with the big regulation change. So it's a clean sheet of paper and an opportunity for the design team to get their teeth into a new challenge," he said.
"The biggest challenge is in the power unit and that's where we rely heavily on our engine partner Renault, to make sure we have a power unit that is competitive with our rivals.
"We've got every confidence they will have."
The Sky Sports F1 Online team will be providing live commentary of all three winter tests, starting in Jerez on Tuesday January 28, with live updates from trackside also on Sky Sports News.