Red Bull forced to end day two running early due to a 'Renault energy store problem'
Sebastian Vettel limited to just 11 laps in two days at Jerez; All Renault-powered cars short of mileage in first winter test
By William Esler
Last Updated: 29/01/14 6:21pm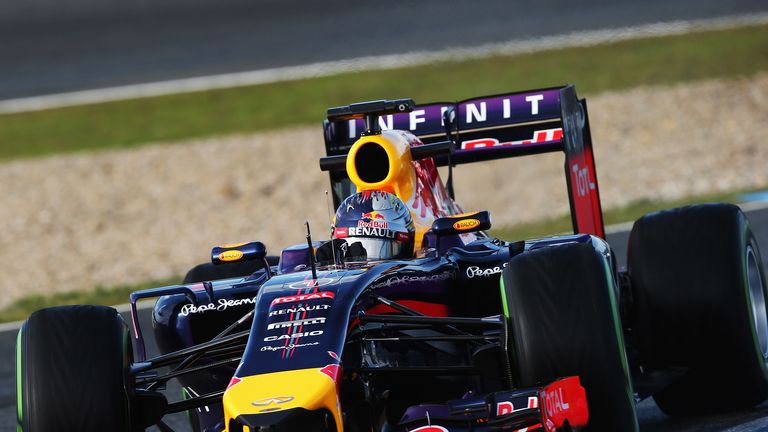 It has been an extremely difficult start to 2014 for the reigning World Champions, who managed just three laps on the opening day in southern Spain due to an "overnight mistake" when preparing their new Renault-powered RB10 for its debut.
There was also acute frustration for Vettel, who has completed a total of just 11 laps in his two days in the car. The World Champion has already flown home to Germany with new team-mate Daniel Ricciardo running for the final two days in Jerez. Vettel will not be in the car again until the second test, which starts in Bahrain on February 19th.
F1's radical technical overhaul, which has seen a move towards turbocharged hybrid engines, is clearly causing headaches up and down the pitlane with a total of just 93 laps completed by all teams on the opening day.
Wednesday has brought considerably more running but Red Bull are clearly down on track time compared to their rivals while engine supplier Renault, which provides power units to four teams in total, is also behind Mercedes and Ferrari. The French manufacturer's customer teams completed just 19 laps between them on Day Three, with Toro Rosso not even leaving the garage.
"Obviously we've not had a lot of running and have a few problems to sort out, but with such big rule changes it is usual to have some teething problems," said Vettel.
"That's what tests are for, to sort those issues out. The next two days will be important to get some track time to prepare for the tests in Bahrain."
Speaking on Tuesday, Red Bull Chief Technical Officer Adrian Newey admitted that the team's development of their title-winning 2013 car has left them playing catch-up.
"Road cars, hybrid road cars, aeroplanes, by the time we see them in public they've had a huge amount of running and private testing - obviously in Formula 1 we don't have that luxury and we have to come out and get these complicated machines to work in the public arena," he said.
"It was always likely that this [limited running] was going to be the case. We've had quite a compressed schedule because we were in a championship fight and with hindsight, perhaps in the second half we could have afforded to stop developing the car a little bit sooner. But we weren't to know that at the time. So we kept pushing and had less time to work on this year's car."
The Sky Sports F1 Online team will be providing live commentary of all three winter tests, starting in Jerez on Tuesday January 28, with live updates from trackside also on Sky Sports News.