Red Bull confirmed on Friday that they will take no further part in the Jerez test
World Champions complete just 21 laps of running in four days
By Mike Wise
Last Updated: 31/01/14 1:27pm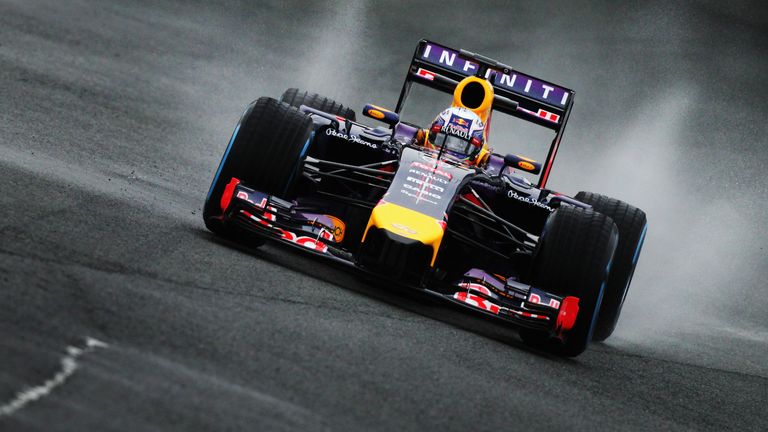 Confirmation that Red Bull were packing up early came at around lunchtime on the final day of running in southern Spain. Daniel Ricciardo managed to complete another seven laps of the 4.428km track in the morning but their total for the week, 21, is less than a tenth of that managed by, for example, rivals Mercedes.
In a week which has seen teams place reliability at the top of the agenda as they seek to gain an understanding of both their new cars and F1's technological makeover, it caps a miserable start to the Milton Keynes-based outfit's pre-season preparations.
In a statement, Red Bull said "a mechanical issue" was to blame, with the team adding it will now "focus its attention on the next test in Bahrain". They have been plagued by problems since the car's launch on Tuesday, principally relating to the car's packaging of the new Energy Recovery System in the power unit supplied by Renault.
Red Bull designer Adrian Newey flew home to the UK on Thursday to oversee a re-design alongside Team Principal Christian Horner, who insisted they could remedy the situation by the time the Bahrain test starts on February 19th.
"It's been a very difficult test," he admitted. "We have had numerous Renault issues as well as chassis cooling issues, which have affected our progress.
"However, despite the lack of mileage, what we have managed to learn shows that the problems should be solvable for the next test in Bahrain. Part of the purpose of this early test was to learn about any issues ahead of the start of the season and there will now be a lot of focus on the dyno over the next few weeks."
Speaking on Thursday, Ricciardo was optimistic of completing more mileage but also admitted that it was more likely to happen in Bahrain. The 24-year-old's debut in the car on Thursday lasted just seven corners before overheating forced him to stop on track.
"Adrian has gone back to the drawing board because there's nothing more they can do at the track. I think he is pretty happy working in his office back at Milton Keynes and he'll definitely be getting involved in trying to sort this out as soon as possible," he said.
"Hopefully tomorrow we will get significantly more done but I think the break before Bahrain is going to help the team a lot. Even if tomorrow doesn't go to plan, we still won't be worried. Bahrain will sort itself out for us. We have two weeks there which is good. But we're definitely not getting worried."
Earlier in the week, World Champion Sebastian Vettel managed a total of just 11 laps in his two days in the car.
The Sky Sports F1 Online team will be providing live commentary of all three winter tests, with live updates from trackside also on Sky Sports News.