Sebastian Vettel says skinny rear wing on RB10 made for 'tricky' Belgian GP qualifying
But World Champion expecting to be closer to Mercs in race
By James Galloway
Last Updated: 24/08/14 5:39pm
Sebastian Vettel admits Red Bull's decision to prioritise straight-line speed for the set-up of their RB10 car at Spa made for a "tricky" qualifying hour but is left hoping that the tactic will allow them to run Mercedes closer in a dry race.
With Christian Horner having declared ahead of this weekend that the high-speed tracks of Spa and Monza were set to prove "damage limitation" exercises for the reigning World Champions – who remain down on power compared to their all-conquering rivals – Red Bull have run with low-downforce rear wings on both of their cars in Belgium in order to negate some of their outright speed disadvantages.
As a result, Red Bull have run closer to the top of the speed traps throughout the weekend so far. However, with downforce levels trimmed on the RB10, the arrival of rain for Saturday's qualifying hour made life tricky for both Vettel and Ricciardo around the winding 7km lap.
Although Vettel still managed to qualify third behind the two Mercedes', his best lap was over two seconds slower than Nico Rosberg's pole time – a pace gap the two-times Spa winner hopes to close down if Sunday's race, as currently forecast, stays dry.
"We knew that it would be even tricker if qualifying was wet, and it was wet, so we can confirm it was tricky!" Vettel said.
"The reasoning behind it is fairly simple. We know that we're down on power, obviously Mercedes can run a lot more wing level and they have a very strong car this year you have to admit.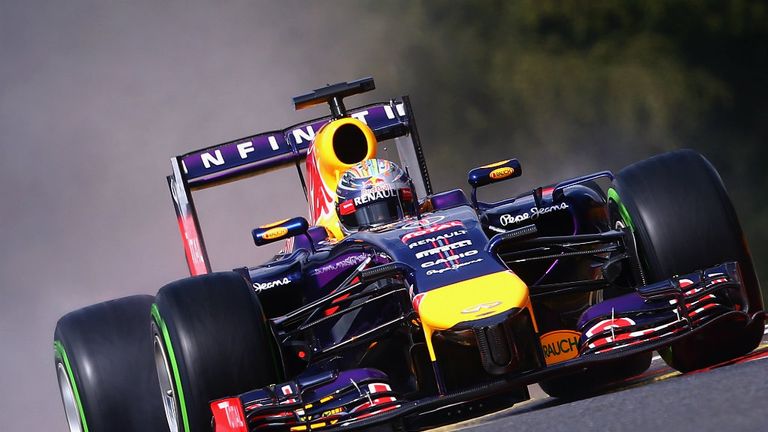 "They have a lot of downforce but they can still take that wing on to the straights. If we do that then I think we are similar in the corners but quite a long way off on the straights and therefore vulnerable in the race. Therefore that's the reasoning behind it. In the wet that probably hurt us a little bit more but hopefully we'll be closer in terms of race pace and closer to them."
While Vettel's third on the grid showed further signs that he is beginning to get to grips with the RB10 relative to in-form team-mate Daniel Ricciardo – the German has now qualified ahead in four of the last six races – he had earlier flirted with the Q2 exit door having gambled on not changing his intermediate tyres.
"It was a tricky qualifying – especially Q2 looked very tight for us," the 27-year-old explained.
"I tried to stay out on the same set of tyres, it started to rain heavier so I was quite confident the track wouldn't get quicker and I wanted to save that extra set for Q3.
"So it was quite tight, I got the lap in in the end because the circuit did pick up, and in Q3 I was able to use both sets of tyres."

Sunday's race starts at 1pm, with Sky F1's coverage underway at 11.30am.