Perez hails Sauber progress
Saturday pacesetter Sergio Perez says he completes his pre-season work pleased with the progress Sauber have made since Jerez.
Last Updated: 03/03/12 5:59pm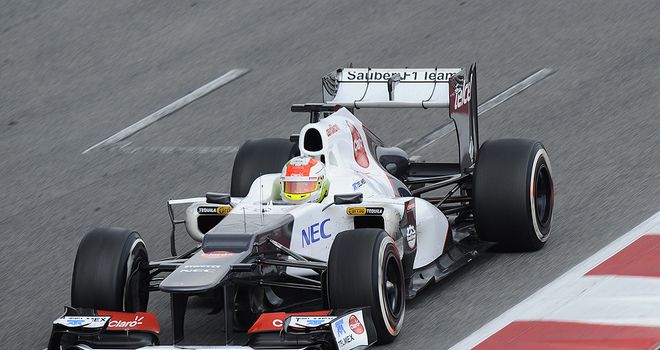 Saturday's Barcelona pacesetter Sergio Perez believes Sauber can be happy with how their C31 has improved during the course of the three pre-season tests.
The Mexican set the penultimate-day pace after emerging at the head of the timesheet following a hugely competitive morning session at the Circuit de Catalunya with a lap of 1:22.094 during a qualifying simulation.
Sauber have targeted a step forward in single-lap pace for 2012 and Perez, whose next run out in the car will come in the opening practice session of the season in Melbourne, says he will fly out to Australia with much optimism.
"I am very happy with how my final test day went," he said, after completing 114 laps.
"We did an intensive programme with qualifying and race preparation, which was important to do. I think we have demonstrated that the car has developed well over the testing period. The team has made the most out of all the information we have collected and certainly is in good shape.
Ready
"Also personally I feel ready for Melbourne."
Although late afternoon rain showers meant most teams had to end their longer runs earlier than they would have wanted, Sauber's head of track engineering Giampaolo Dall'Ara says the team can be proud with the amount of mileage they have racked up recently following a problematic start to the winter.
"We completed a good programme today. To simulate qualifying was a good exercise for the team and the driver and all went fine," he said.
"In the afternoon we also simulated procedures you have for a race start and pit stops during the race. After losing some track time in the early days of pre-season testing, we are now pretty happy with the mileage we have achieved.
"The team back in the factory obviously contributed a lot to the progress. Tomorrow Kamui will have a similar programme in the morning, but a different one in the afternoon."