Webber plays down RB8 changes
Mark Webber claims Red Bull's new RB8 chassis wasn't "massively different" to the one he ran at Barcelona on Thursday
Last Updated: 03/03/12 6:29pm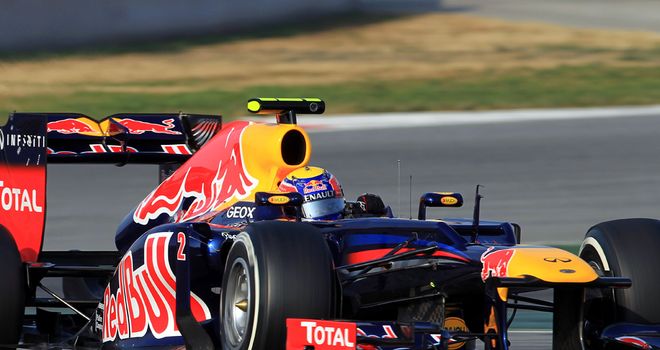 Mark Webber attempted to play down the scale of the revisions rolled out on Red Bull's RB8 on the penultimate day of testing.
As revealed by Sky Sports F1 on Friday night, the World Champions flew out a brand new chassis to Barcelona in time for Saturday morning which featured a number of key developments - headlined by a completely reworked exhaust layout.
The first appearance of Webber in the car on the track caused something of a stir amongst the media but, after completing 70 laps in it during the course of the day, the Australian claimed it wasn't that different to the previous configuration he ran two days before.
"We had a pretty good run today and once again we learned a lot," he said.
"However, I suppose the thing that everyone's obviously asking about is the changes we made to the car but I have to say the car was not massively different to the one I drove on Thursday.
"We went through our normal programme, nothing drastic happened, and we just keep working away.
Laps
"It would have been nice to have a few more laps today but then again we didn't have a race simulation planned, so the rain didn't really hurt us. "
Webber's race engineer Ciaron Pilbeam added: "We had a new chassis for Mark today with some developments parts on board. The run plan was pretty much the same as yesterday, concentrating on set-up work and short runs in the morning and with longer runs planned for the afternoon."
With a low-key eighth place on the timesheet not reflective of the RB8's potential irrespective of the real scope of the latest chassis iteration, Webber admits he is now eager for the talking to stop and the racing to begin on his home soil in a fortnight's time.
"For me the next stop now is Melbourne and I'm looking forward to that," he added.
"It's always good to drive out of the pitlane there. Racing's what we're all here for and while testing is good, it's nice to be on track all at the same time, all with the same window of opportunity to deliver - that's what we love doing.
"I'm looking forward to that weekend unfolding, and the rest of the races. It'll be good to get the season going."