Webber: Qualy strategy a balance
Mark Webber reckons qualifying at the front at Barcelona remains as key as ever before, although expects some drivers will try and save tyres for race day.
Last Updated: 11/05/12 5:24pm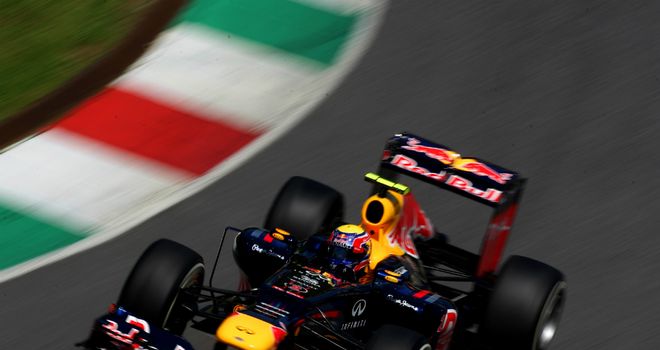 Mark Webber reckons qualifying near the front remains a critical element to success at the Circuit de Catalunya, even if he suspects some drivers will sacrifice grid positions to save tyres for the race.
Since the Spanish Grand Prix switched to the Barcelona circuit in 1991 only once has the race been won by a driver not starting on the front row - Michael Schumacher in wet conditions in 1996 - while last year Webber himself became the first pole-sitter in 11 years not to go on to win the race.
And although the advent of DRS last year produced a tenfold increase in the number of overtaking manoeuvres around the track, Webber still attaches a big importance to qualifying near the front.
"It's nice to finish the first lap in a good position," he told Sky Sports F1's Natalie Pinkham. "I capitalised on pole here in 2010, I didn't capitalise on it last year. I think the winner has generally come from the top three here for the last thousand years, so you need to be at the front at the end of the first lap for sure and then go for there.
"And people probably just covering themselves at pit stops [after that] to be honest. I'm not sure how many stops the race will be but the tyres this morning weren't particularly impressive."
However, asked by Natalie if the abrasive nature of the Circuit de Catalunya track surface meant drivers might look to limit their qualifying running, Webber replied: "Yeah, I think that qualifying could be compromised to look at how many sets of tyres you have for the race."
Red Bull had arrived at the first European round on the back of a morale-boosting first victory of the season in Bahrain three weeks ago and Webber was pleased with how his Friday went despite a trip through the gravel in Practice Two.
"Pretty happy actually. We got a lot of mileage apart from a driver running off the track and getting a bit of gravel rash...it's been a while between drinks for that! he joked.
"You get one timed lap on the option basically, everyone gets one timed lap, and that's the lap everyone sees on the timesheet at the end of the day. But there's a huge amount of work that went on around that and that's what we've got to pull together tonight and work on tomorrow."
And with less than second covering the top 10, he added: "There's some fast cars out there. McLaren are quick, Ferrari are quick, we're quick. Mercedes aren't hanging around, and Renault [Lotus] as well."
Team-mate and World Championship leader Sebastian Vettel finished second in both practice sessions and was pleased with the performance of the RB8, which was equipped with several development parts.
"I think it wasn't too bad. Overall there's a lot to go through. We had a couple of new parts and I think it's the same situation when you arrive here in Barcelona for all the teams," he said.
"But pretty happy to be honest, we did a lot of laps, we got through the programme well and now we need to see exactly where we are."
The German added that the hot temperatures witnessed in Barcelona on Friday were likely to play a key role in the race should they continue, hinting that high degradation levels could produce a large number of pit stops.
"I think the wind played a role," he said when asked about the difficult conditions.
"You could see a couple of cars going off. The fact that it's quite hot, the sun is out and asphalt temps go up doesn't help all of us, it makes us all slide a bit more. And I think that's what we've seen.
"To be honest we are in a similar position to last year. I think we will see quite some stops on Sunday."