Horner expects 'full on' title scrap
Christian Horner says Red Bull must start exerting as much pressure as possible on Fernando Alonso in the races to begin clawing back the Spaniard's title lead.
Last Updated: 23/07/12 12:31pm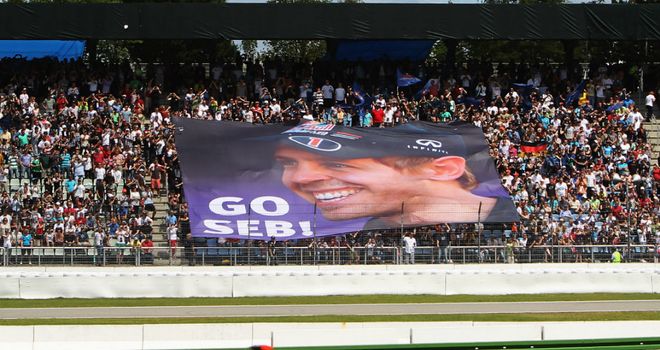 Red Bull chief Christian Horner is expecting the battle for the championship in the second half of the 2012 season to prove "full on" as rival teams look to make up the deficit to Ferrari's Fernando Alonso.
The former two-times World Champion's second win in three races at Hockenheim on Sunday saw him open up the biggest points lead of anyone so far this year - 34 points - at the half-way stage of the campaign as his main three rivals Mark Webber, Sebastian Vettel and Lewis Hamilton all ran into varying problems.
Horner's two drivers, Webber and Vettel, both now trail Alonso by more than a race victory but with 10 rounds still to go, and a maximum of 250 points to play for, the RBR Team Principal is far from throwing in the towel on his outfit's chances of claiming a third straight Drivers' title.
"The second half of the year is going to be, again, full on," he said.
"There's going to be a lot of good racing. Fernando's finished all the races in the points, he's won three races now, he's got a 34-point lead but that isn't insurmountable with 25 points for a win."
Horner believes it is important that Red Bull start getting two cars ahead of the championship leader at the chequered flag to ensure his points lead starts to shrink at a faster rate - something that hasn't happened since the Bahrain GP in April - and begin to start exerting some pressure on the in-form Spaniard.
"It's important we get both our guys regularly beating him - we've got an opportunity hopefully next weekend in Hungary," Horner said.
"But he's been driving incredibly well. He's hit a purple patch in form at this point of the year but we'll be looking to put as much pressure as we can on in the second half of the year which obviously starts next weekend.
"He's driving incredibly well, the car has obviously come on in leaps and bounds, but there's an awful lot of racing to be done between now and the chequered flag in Brazil."
The Briton also echoed Ferrari counterpart Stefano Domenicali in refusing to count everyone outside of Alonso and the two Red Bull drivers out of the drivers' title fight at this stage, particularly given McLaren's Hockenheim resurgence.
"I don't think you can write off anybody in this championship," Horner suggested.
"People were saying obviously Jenson [Button]'s had a bad run - he drove a great race today. I think it would be unwise to write probably any of the top six guys off at the moment because things can change and change rapidly.
"It only takes a couple of DNFs for Fernando or any of the top guys and the picture can change very quickly if you string together a bit of form."