Pirelli tyre debate reopened as Mark Webber claims drivers' needs 'not super important'
Webber claims Perez locked up "because there's no tread left"
By James Galloway
Last Updated: 07/10/13 3:26pm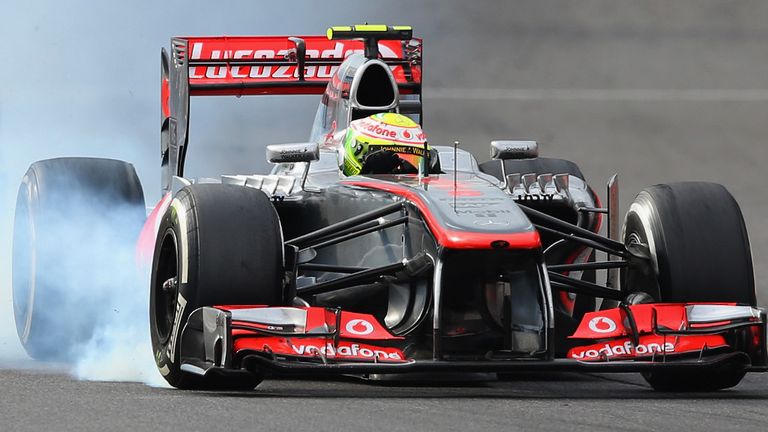 Although discussion over what had become the season's pre-eminent talking point had subsided since Pirelli took decisive steps to prevent a repeat of the tyre blow-outs at June's British GP, both Webber and Ferrari rival Fernando Alonso voiced their unhappiness with Pirelli's rubber in Korea.
Sunday's race witnessed an incident reminiscent of the multiple tyre failures suffered by drivers at Silverstone when McLaren's Sergio Perez saw his right-front tyre delaminate at high speed on the backstraight, sending debris into the path of cars behind - with Red Bull driver Webber the first in line.
After conducting investigations into the tyre's remains, Pirelli concluded that Perez's big lock up into turn one at the end of a 21-lap stint had caused the flat-spot and subsequent blow-out.
"Regarding Sergio Perez's front-right tyre issue we have been able to determine very quickly that it was the result of a flat spot caused by a lock-up under heavy braking," the Italian manufacturer said in a statement.
"We're obviously on exactly the same construction as we raced here last year, so there's no underlying problem, while flat spots or punctures have just always been an integral part of racing."
Having been closely following Perez down the backstraight at the time of the Mexican's delamination, Webber was forced to take swift avoiding action from the flying rubber and assorted debris, although it didn't prevent him from picking up a puncture of his own.
The Australian, a sustained critic of the fast-degrading nature of F1's control tyres, quipped to Sky Sports F1 after ultimately retiring from the race, having later seen Adrian Sutil crash into him, that "I got a Pirelli puncture from a Pirelli tyre...impressive".
Anticipating Pirelli's likely verdict on the Perez incident, Webber later went on to tell reporters that the tyres weren't catering for drivers' needs.
"Pirelli will put the puncture of Perez down to a lock-up but the reason the drivers are locking up is because there's no tread left," Webber said.
"That is how it is. The drivers aren't super important - it is what other people want. The tyres are wearing a lot and they also explode a bit. But that is for Pirelli to sort out."
Webber wasn't alone in criticising the quality of the tyres being used in Korea, however, with Alonso claiming in the wake of qualifying on Saturday that "the tyres cannot do five kilometres".
The Spaniard reiterated his stance after suffering from graining himself during a disappointing race for Ferrari on Sunday, although at the same time did concede that it was still up to both teams and drivers to adapt to the challenges.
"We know the tyres are on the limit in terms of quality," the Spaniard was quoted as saying by the Guardian.
"These are tyres that won't last a lap, but as we said on Saturday, we have zero problems with the performance. It's up to us who haven't adapted to these 2012 [construction] tyres. It's up to us Ferrari, or the drivers, to improve."