Fernando Alonso pledges his long-term future to Ferrari in wake of Red Bull rumours
Spaniard says he wants to extend deal beyond 2016
By James Galloway
Last Updated: 05/09/13 4:50pm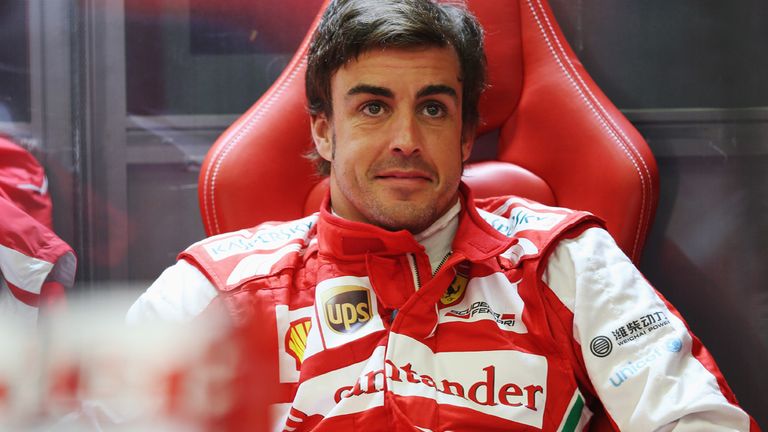 The Spaniard's future at the Scuderia, who he joined in 2010, has been plunged into doubt ever since Alonso's manager met with Christian Horner at the Hungarian GP and reportedly informed the Red Bull chief that his client could be available to join the World Champions next season.
Details of that meeting was swiftly followed by Ferrari themselves taking the unprecedented step of publishing details of a rebuke delivered to Alonso by their President Luca di Montezemolo in wake of apparent critical comments by the two-time World Champion directed at the team's underperforming car.
Nonetheless, a Red Bull switch for 2014 was always considered a highly unlikely prospect and any lingering talk was conclusively ended earlier this week when Red Bull announced that Daniel Ricciardo would be promoted from Toro Rosso to partner Sebastian Vettel.
Alonso had given an intriguingly tentative response when asked to confirm that his future lay with Ferrari at the last race in Belgium, but appearing in the Drivers' Press Conference ahead of the team's home race at Monza on Thursday, the Spaniard's comments over his future were far more emphatic.
The 32-year-old made clear he intended to honour his existing contract to 2016 and suggested he also hoped to extend it still further.
"It was only rumours, a lot of rumours. There were rumours about Red Bull, there were rumours in Italy about a sabbatical year. There were so many rumours," Alonso declared.
"But I still have three-and-a-half more years [on my contract] with Ferrari which I intend to respect and hopefully increase a little bit. I will try to finish my career in the best team in the world - which is Ferrari."
Reports in Italy in recent weeks had indeed suggested Alonso could take a year out in 2014 should he not win the world title this year. However, despite having since purchased a cycling team, the Spaniard insisted he would remain in F1 for at least "four, five more years".
"Never an option," he said when asked if he could take a sabbatical. "I'm in the best moment of my career with the best experience and performing at the best time. I will not miss any opportunity now. I know that I'm still in very good shape for maybe four, five more years. So this for sure I will give 100% of my passion, that is motorsport and my career.
"After these four or five years, I will see what condition I am [in] and if I'm performing well. If I'm not feeling good anymore maybe I think [about what I do next], but as I said, the next four or five years I will be 100% committed."
While the prospect of a third world title win, which has eluded him since he claimed his second crown with Renault in 2006, is fast fading this season, Alonso said next year's big rules overhaul presented Ferrari with a chance to exercise a power shift at the top of the grid.
"We are not achieving at the moment the results that we want but we are working very hard," he added.
"Next year will be completely new rules which obviously open the door for many teams to stop the domination that Red Bull seems to have in the last couple of years. So we have high hopes for next year's challenge."
In regards to his new cycling project, Alonso admitted he had "used two or three batteries on the telephone every day" to complete the deal with his business partners but made clear that "all the decisions and all the work that we need to do will be passed to other people".
Alonso and Ferrari's pressing F1 concern is how they check Vettel's momentum in the title race, the German heading into the Italian GP with a 46-point advantage over his perennial rival.
Stefano Domenicali revealed last week that, depending on their title chances, Ferrari planned to shift all of their development focus onto the 2014 car after the next race in Singapore.
Asked if he therefore needed to win at both Monza and Marina Bay to avoid the team effectively throwing in the towel on their 2013 challenge, Alonso stressed a more realistic goal was to try and simply finish ahead of Vettel.
"I don't think two wins is something that we can put like a target. We won two grands prix until now in the championship, so it would be a bit too optimistic if we really think that we can win the next two races," he conceded.
"We will try to do so and hope for the best but the more realistic targets are to finish in front of Sebastian. That's a target that we wanted to do in the last couple of grands prix, we didn't arrive to a situation to close the gap - we only closed the gap in Silverstone when he retired - so we need to change this situation and we will be happy finishing in front of him here in Monza and Singapore.
"And finishing in front of Sebastian means being on the podium, minimum, because we know how strong he is and how competitive Red Bull will be. So two podiums and finishing in front of Sebastian is the target for these two next grands prix."
However, should Ferrari fail in that quest, Alonso admitted it made sense to then shift complete focus.
"If we cannot do so, if we keep losing points, obviously we have to start thinking also in the 2014 programme because it will only be six or seven races remaining with massive points [deficit]. So important weeks coming for sure," he added.