Fernando Alonso reflects on 2013 and says he knew in July the title was out of reach
Spaniard discloses he was close to pulling out of race in America
By By Mike Wise at Interlagos and Pete Gill
Last Updated: 22/11/13 8:20am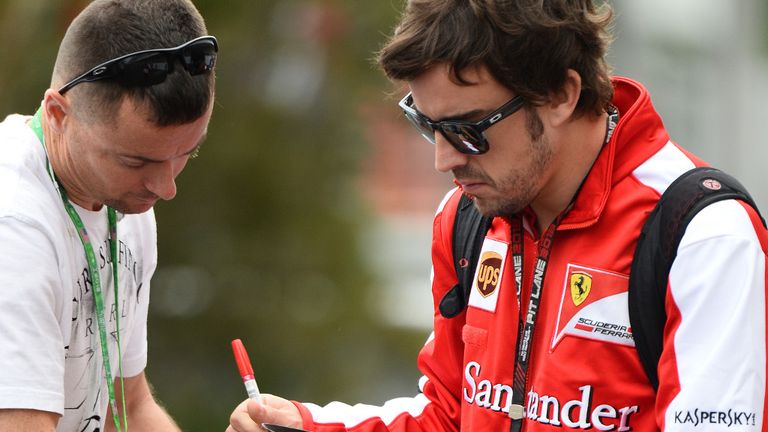 With one race of the season remaining, the Spaniard is guaranteed to finish second in the championship, but hasn't won a race since May's Spanish GP and now trails Vettel by almost 150 points in the standings.
"We have to do better next year if we want to fight for the championship because we were not good enough compared to Red Bull," accepted the two-time World Champion whose last title success occurred in 2006.
Ferrari have fallen to third in the Constructors' Championship behind both Red Bull and Mercedes after a sharp dip in form that coincided with a mid-season alteration to the Pirelli tyres after a spate of blow-outs during the British GP in late June. Alonso says he knew the following month that the title was already out of reach.
"Germany or Hungary," replied Alonso when asked to pinpoint when he realised he wouldn't be able to stop Vettel. "In July we were too far behind Red Bull in terms of competitiveness.
"In Silverstone, we had planned to have a big update with the car and it didn't work - we fell behind Red Bull. In Germany and Hungary we weren't competitive at all, and kept on losing points, and so we went into the August thinking we needed a very big step if we were to fight for the championship but inside we knew it was getting very, very difficult."
Alonso, who has declared himself fully fit for his weekend's season finale in Brazil, also revealed that he came close to withdrawing from participating in last week's United States GP due to the aftereffects he suffered from a spine-shaking ride over the kerbs in Abu Dhabi.
"In Austin, to be honest, I did not think about letting Pedro [de la Rosa, Ferrari's reserve and development driver] drive because once you have flown and you are there you drive. But when I was at home on the Sunday and Monday before the race I did not feel ready to drive. I had headaches, I was not 100 per cent, and didn't feel I would do a good enough job so it would be better for me not to drive," he said.
"But slowly the inflammation came back to normal, I felt better, and I flew to Austin to see how I was feeling there. In Austin, I was more or less ok, it was just on the limit - had we only had one week after the Abu Dhabi race until the next race it wouldn't have been possible."
Alonso, who says he is "proud" of the team's performance this year and identified his win in Spain as the highlight of his season, will be partnered next season by Kimi Raikkonen after four years alongside the Williams-bound Felipe Massa.
"It has been a productive relationship, we've been working very closely together, we've built a friendly relationship off the track as well," the Spaniard reflected. "There have been ups and downs, especially for him in terms of performance, but always very competitive, and I'm sure Ferrari, including myself, will do 120 per cent to give him a good weekend here.
"We wish him all the best for next year - although hopefully it will not be too much of a struggle to beat him!"