Sky Sports F1's pundits discuss Felipe Massa's future after his Ferrari exit is confirmed
Brundle, Herbert and Kravitz have their say on Ferrari's decision
By James Galloway
Last Updated: 11/09/13 2:04pm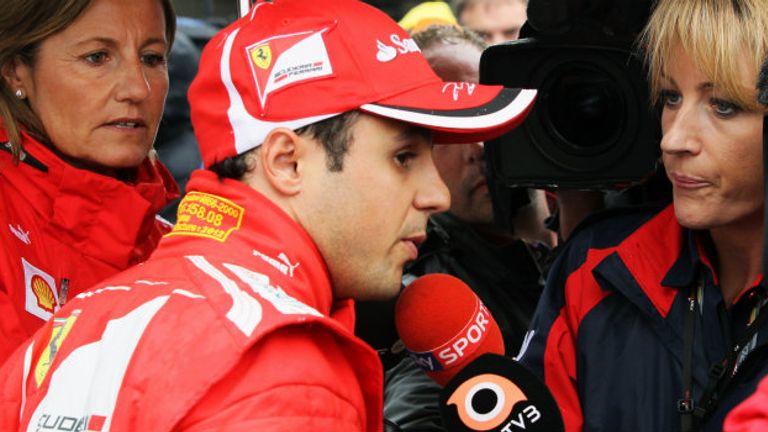 After months of speculation over whether or not Ferrari would hand the long-serving Massa a further contract extension for 2014, the Brazilian himself announced via social media on Tuesday night that his eight-year stay at Maranello would come to an end after the season-ending round at his home circuit of Interlagos. Ferrari are poised to confirm Kimi Raikkonen as his replacement.
Having first signed a contract with Ferrari as long ago as 2001 when a rising star in the junior categories, Massa has gone on to become the second-longest serving driver in their history with his final race for them in Brazil set to be his 139th start in red.
And although sorry to see the popular Brazilian's Ferrari career come to an end, Sky F1 analyst Martin Brundle thinks the Maranello hierarchy have got the timing right.
"I am sad because he is a friend of mine and I like him," Brundle told Sky Sports News. "He has had tough time and things haven't always worked out for him from having the title in his hands for a few seconds in 2008 to getting hit on the head by a piece of sprint in 2009 that set him back heavily.
"But Ferrari had to make a change frankly and if they had continued with the same pairing again it would have looked weak appeared as if they had run out of ideas."
Johnny Herbert echoed his Sky F1 colleague's sentiments, admitting that Ferrari had only seen flashes of Massa's best form since the accident at the 2009 Hungarian GP which fractured the Brazilian's skull.
"It's a shame, because I like Felipe. He's a great talent and there's a lot of speed in the man," the three-times GP winner told Sky Sports Online.
"He nearly won the World Championship back in 2008 against Lewis [Hamilton]. Then he had the incident with the spring falling off the Brawn and hitting him on the head and it hasn't quite been the same Felipe that we saw before that.
"We've seen instances of it [his best form] since he's come back but overall it hasn't quite worked out for him and it probably hasn't quite worked out for Ferrari."
With Massa's Ferrari career therefore having just seven more races to run, attention will now turn to the Brazilian's next moves with the 32-year-old himself having made clear on Monday night that he isn't giving up on his F1 career yet and wants "to find a team that can give me a competitive car" for 2014.
But what is the likelihood of such a move materialising?
"He could go to Lotus. They themselves have some financial troubles and could do with a driver who brings sponsorship to the team," mused Ted Kravitz.
"But it looks like they will probably retain Romain Grosjean and perhaps take Nico Hulkenberg, who was the other candidate for Massa's Ferrari seat and looks to have been overlooked in favour of Kimi Raikkonen.
"He's driven for Sauber before but it looks like they are going to take two drivers who bring money to the team, and while Massa does have a few personal sponsors, it's not worth mega bucks.
"So Massa's options are decreasing and I'm not sure whether he will be in Formula 1 next year. I'm afraid to say it because he's one of the gentlemen of the paddock, but we could be looking at this being Felipe Massa's last year in Formula 1."
Brundle agreed that a return to Sauber, or an effective job swap with Raikkonen at Lotus, were the most likely scenarios and expressed hope that the Brazilian would still be in F1 come next season.
"It is not out of the question that he could return to Sauber - they are Ferrari-powered of course and they could facilitate that - and it is not out of the question that he could go to Lotus, or he could be out of F1 altogether," Martin added.
"I wouldn't be surprised to see him pop up in another Formula 1 car."