Fernando Alonso concedes he's 'not doing good enough so far' at Japanese GP
Spaniard resigned to fate as "for four years we've been behind Red Bull"
By James Galloway
Last Updated: 13/10/13 7:14am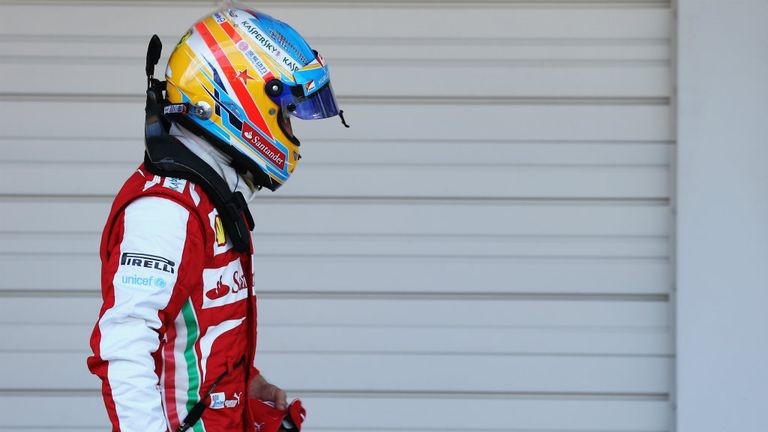 Although the Scuderia's qualifying travails have been a long-running saga - the team have not claimed a dry-weather pole for three years - the Spaniard's own Saturday performances have come under scrutiny in recent races in the wake of a single-lap resurgence from Massa, who the team have decided to replace with Kimi Raikkonen at the end of the season.
At Suzuka on Saturday that trend continued as Massa produced an impressive late Q3 lap to take fifth place and out-qualify Alonso for the third time in four races. The Spaniard lapped nearly three tenths of a second lower to qualify eighth where he will share the fourth row with Raikkonen.
Asked by Sky Sports F1's Natalie Pinkham what had gone wrong in Q3 after appearing to have stronger pace up until the final shootout, Alonso conceded: "Nothing. I didn't have a good weekend so far.
"I've been eighth, ninth all weekend and didn't find the pace. In qualifying I'm eighth again, so I'm not doing good enough so far and I try to recover some positions tomorrow."
But speaking in his later briefing with the written press, Alonso implied he had become resigned to Ferrari's qualifying fate.
"It's not frustrating anymore to be honest," he said. "For four years we've been behind Red Bull. We were seventh in Korea, we didn't have the pace. We arrived here five days later and we didn't expect any miracle.
"There is no surprise or frustration - no emotions at the moment."
Having not started as high as even the second row since the Bahrain GP in April, Alonso's current second place in the Drivers' Championship owes everything to his famed ability to make up places over the longer race distance.
However, that didn't prove the case last weekend in Korea, the Spaniard qualifying fifth but finishing sixth after a race-long struggle behind Nico Hulkenberg's Sauber, and on Sunday Alonso must finish in the top eight, should Vettel claim another win, to delay his perennial rival's coronation as a four-times World Champion for at least two more weeks.
But with the 32-year-old having accepted on Thursday that his hopes of the 2013 title are "nearly impossible", he admits that beating at least one Mercedes in Sunday's race to preserve Ferrari's position in the Constructors' Championship represented a more pressing concern.
"The top five is maybe something realistic for us," he said when asked what could be achieved in the race.
"We need to overtake a few cars. But we need to also race a little bit thinking in the Constructors' Championship. We have Mercedes only one point behind, they are both in front of me so I need to finish at least in front of one of them."
While Ferrari's team leader was unusually critical of his own performance in qualifying, team-mate Massa was delighted with his pace after qualifying within half a second of pole - half the deficit the team trailed Red Bull by just seven days ago in Yeongam.
"It was really a great lap I did. I managed to put together a great lap - almost a perfect lap," the Brazilian told Sky F1.
"We have some cars that are quicker than us in front but we are not far for the qualifying at least. We will see tomorrow. The race pace is very important but I'm very happy for the qualifying. I managed to put together a perfect lap and this is very important for the race here. Let's try to do even better tomorrow."
After diplomatically declining from assessing what his outqualifying of his 2014 replacement, and former team-mate, Raikkonen said for Ferrari's decision to drop him, Massa added: "What I want is to do a great end to a long career in Ferrari and concentrate for next year trying to find a competitive car."