Felipe Massa Q&A: On penalties, farewells and the future
The Ferrari stalwart wasn't impressed with the stewards in Brazil...
By Sky Sports Online
Last Updated: 25/11/13 12:32pm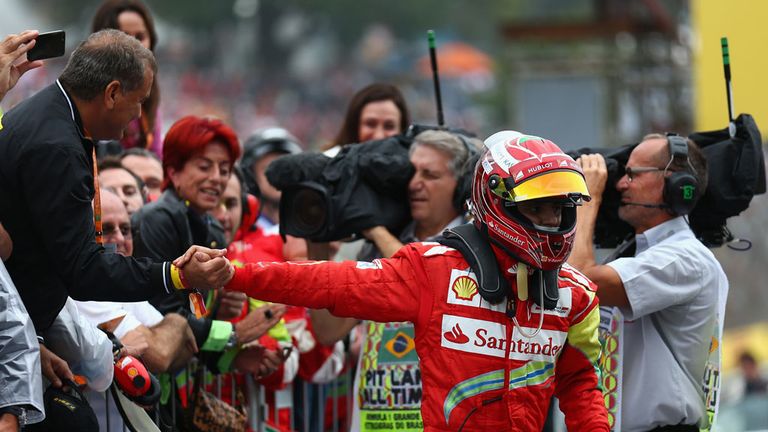 Fernando said he would have helped you to reach the podium without your drive-through penalty...
Felipe Massa: "Actually it was really a shame to have the drive-through for this. For sure I passed a few times on the line but maybe I was not the only car who passed them. It's something that they invented now, this rule. It's just in the middle of the main straight.
"I didn't gain anything, I didn't do anything wrong, I didn't pass any cars because of that. So I'm really disappointed - I'm sure they [the stewards] lost the opportunity to do the right thing. For sure they didn't do the right thing. If you really need to do that you need to penalise everybody who past, not just me.
"It is really unacceptable and I feel sorry because the race would have been completely different. I would finish fourth but for sure Fernando [Alonso] would let me by at the end. The race was going very well and so I'm really disappointed for that.
"But in the end, to be honest, I don't want to think about that but just think about the nice time that I passed with Ferrari. The incredible time with Ferrari, my career, all the friends, everybody I met, all the opportunities I had. So I think that's much more important than talking about reaction for the stewards. Sometimes they believe they are the king and they don't know what to do."
In terms of the agreement you had with Fernando about him letting you pass, what exactly were the terms of that?
FM: "I didn't have any agreement with him to be honest. He just came to say 'whenever you are behind me I let you by'. It was not an agreement for me, it was something that he came to me to say."
You've closed a nice chapter at Ferrari but your career goes on: what is your schedule over the winter with Williams? It'll also be your first time with a different engine next season.
FM: "Yeah, it's true. It'll be the first time I will not drive a Formula 1 [car] without a Ferrari engine, so it's also something that's a new experience for me. I need to get used to the different colour, a different car as well, but I'm really excited for my future. I'm really 100% motivated to try to do everything I can to bring Williams back to the fight.
"I should start in December. I'm going to do maybe a few days there before the Christmas party of Ferrari and then we start next year. So my schedule should be more or less like that."
What will you miss about Ferrari?
FM: "To be honest I will really miss the human part. You can see, it's pretty clear, how my relationship is with Ferrari and how many friends I have here. You can see that it was a very emotional day, not just for me, but everybody who is working together with me. This is what I will miss more: the friendships and the relationships. Not just at the track but also at the factory.
"I will see them still in the future; I will come here definitely because I have a lot of friends here. But I'm really excited for my future. I think it's a nice team [at Williams] so I'm really excited for my future and really want to do everything I can to help my new team, but to help myself as well to have again great races in the future."