Felipe Massa backs Williams to put Day One delays in Bahrain behind them
After strong Jerez test, Williams complete just five laps at Sakhir
By James Galloway in Bahrain
Last Updated: 19/02/14 8:44pm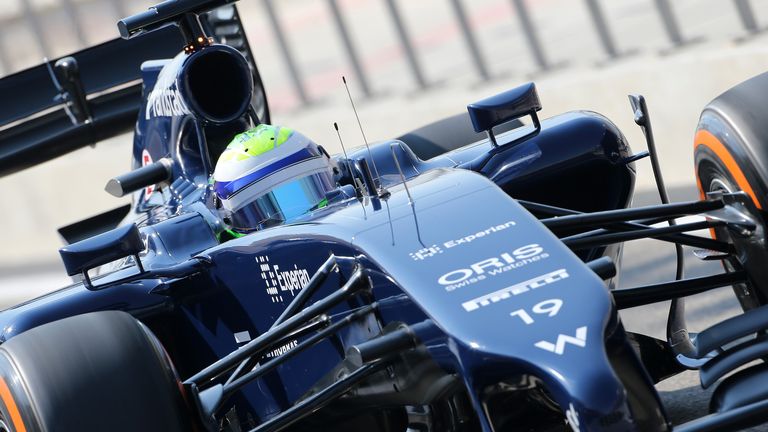 The Grove-based outfit were one of several teams to experience a challenging opening day to the second pre-season test with Massa confined to the role of spectator for all but five laps after a fuel system problem struck the Mercedes-powered FW36.
With the team delayed for several hours after to go through the lengthy process of removing and then refitting the power unit to inspect the car's fuel cell, Massa admitted the wait was "a bit frustrating" but shouldn't have adverse knock-on effects for Williams' week.
Asked by reporters if the team fully understood the problem, the Brazilian replied: "I think so, but not 100%. Every time that we had this problem we needed to dismount the car, mount again. Every time you dismount and mount you lose three hours. Then we had the problem again. We had to pass through so many things and I hope tomorrow will be okay.
"I don't think it should be a big problem to be honest. We saw that most of the Mercedes teams could run today. We ran in Jerez so it's something that I'm not so worried [about] because we run already. It's not the first time that we put the car on the track and we could not drive. We did many laps [in Jerez] and I think it's important to understand quickly the problem that we had today."
Massa, who is entering his 12th season of F1, demonstrated his high level of experience by stressing that in the long run Williams would benefit from the setback.
"The car is new, sometimes things happen and you don't understand why, but I think it's important to pass through this problem and understand everything about the car," he insisted.
"We know that when we arrive in Australia maybe the reliability is more important than anything so I think it's important to pass through all the issues. Maybe what we had today was not nice because we lost one day but it's important to understand."
With one of his six pre-season days nevertheless proving to be an effective write-off, Massa now has just three more days in the FW36 left before Practice One in Australia on March 14.
The 32-year-old, who hands over the car to Valtteri Bottas for Day Two in Bahrain, said there was still plenty both he and the team had to get to grips with regarding the new 2014 regulations.
"To be honest there's still some understanding for us. The mileage is very important for the so few days we have for testing. You have so many things that we need to understand and learn about the fuel saving, how to drive the car in the race," he explained.
"You need to understand about the tyres, that are a little harder [in compound] than last year. You need to understand if it's too hard or not. The way of driving the car is something that is coming naturally. But mileage is important - it is important for all of us.
"Not just for the drivers but for the team as well to get to the first race and be prepared, be ready. Maybe most of the teams they are not 100% ready now. Maybe the team that made more mileage was Mercedes, so maybe they are a little bit in front. But maybe they are still not 100% ready yet.
"We can have many surprises in the first races and we need to be ready to, if you have a surprise, we need to be inside that."
He added that it wouldn't be until next week's final test at Sakhir that the more definitive Melbourne-spec version of the FW36 would begin to take shape.
"For the moment it's similar [to Jerez]," Massa said of the FW36 specification.
"We have some little changes and we should have some new parts more next week. At the end of next week the car should be more or less not far away from how it's going to be in Australia."
Bahrain test, Day One timesheet:
1. Nico Hulkenberg, Force India, 1:36.880, 78 laps.
2. Fernando Alonso, Ferrari, 1:37.879, 64 laps.
3. Lewis Hamilton, Mercedes, 1:37.908, 74 laps.
4. Kevin Magnussen, McLaren, 1:38.295, 81 laps.
5. Sebastian Vettel, Red Bull, 1:40.224, 14 laps.
6. Adrian Sutil, Sauber, 1:40.443, 82 laps.
7. Robin Frijns, Caterham, 1:42.534, 68 laps.
8. Daniil Kvyat, Toro Rosso, 1:44.346, 5 laps.
9. Romain Grosjean, Lotus, 1:44.832, 8 laps.
10. Felipe Massa, Williams, No time, 5 laps.
11. Jules Bianchi, Marussia, No time, 3 laps.
Total pre-season laps by each team:
Mercedes - 383.
McLaren - 326.
Ferrari - 315.
Sauber - 245.
Force India - 224.
Williams - 180.
Caterham - 144.
Toro Rosso - 59.
Red Bull - 35.
Marussia - 33.
Lotus - 8.
Total pre-season laps by each engine manufacturer:
Mercedes - 1,113.
Ferrari - 593.
Renault - 246.
The Sky Sports F1 Online team will be providing live commentary of all three winter tests, with live updates from trackside also on Sky Sports News.