Disappointing weekend for Kimi
Kimi Raikkonen admitted his return to Formula One at the Australian Grand Prix was "far from ideal", although Eric Boullier was more upbeat.
Last Updated: 18/03/12 2:38pm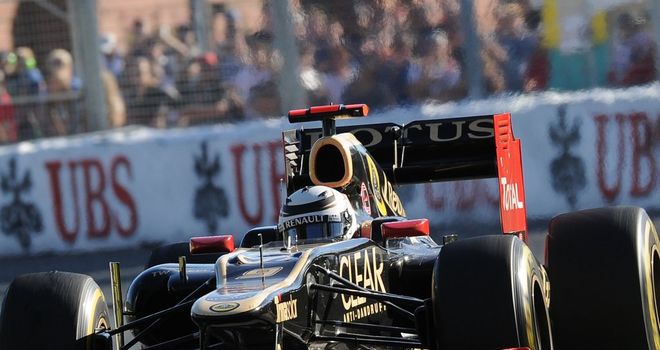 Kimi Raikkonen admitted his return to Formula One at the Australian Grand Prix was "far from ideal", although Lotus boss Eric Boullier was much more upbeat.
After spending two years away in rallying, Raikkonen started down in 18th at Albert Park following a breakdown in communication with his team in the first part of qualifying.
The 2007 World Champion fared better during the race, making his way through the field to sit in 10th position with half a lap remaining.
And a last-lap crash involving Williams' Pastor Maldonado played havoc with the field allowing Raikkonen to emerge with seventh place, but the Finn was still disappointed with his weekend overall.
"Yesterday we made some mistakes which cost us quite badly so it could easily have been better in the race," he said.
"I made a good start, but then there was an accident in front of me at the first turn, so we lost a few places there as I had to almost stop and move on to the grass to avoid it.
"That made the race harder again as we had the speed, but a lot of traffic to get through, so when you look at all these things we could have finished in a much better position.
Not ideal
"Overall the weekend was far from ideal, but the car feels good and to come back to seventh means we at least come away with some points."
Lotus' other driver Romain Grosjean qualified third on the gird but made an early exit from the race after a coming together with Pastor Maldonado left him with suspension damage.
Team principal Boullier said: "We should be leaving Australia with mixed feelings, but actually we all have a little grin on our faces.
"Yes, we had great expectations from Romain after his third position in qualifying, and seeing another car taking him out of the race early on was very disappointing.
"But on the other hand, the performance shown by the car this weekend makes us optimistic for the rest of the season.
"The team has produced a very solid car, responsive to set-up changes, and quick.
"I'm proud to be part of a team that can take blows like we suffered last year and still bounce back to show what we are made of.
"As for Kimi, he has been able to demonstrate we have more than just single-lap pace. Gaining 11 places in his first race after a two-year break is certainly a satisfying performance."