Kimi Raikkonen found himself deflecting rumours of a move to Ferrari on Thursday
Finn might be out of the Red Bull running but he's still having to answer the same questions
By Mike Wise at Monza
Last Updated: 06/09/13 11:03am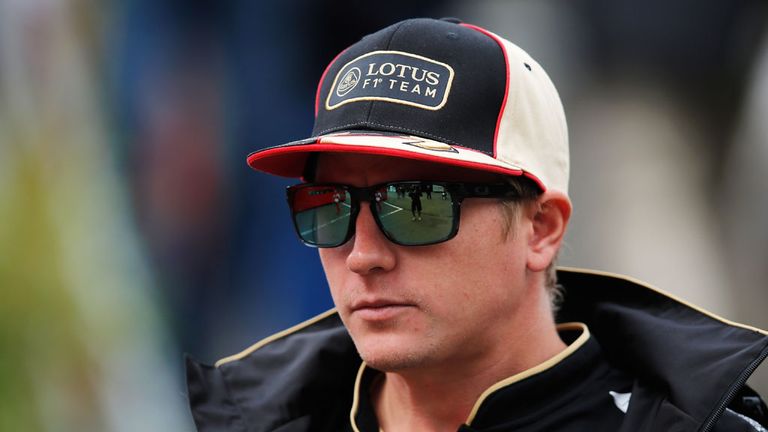 No sooner had the Finn's interest in the vacant Red Bull seat finally been ended than he was forced to fend off questions about a move back to the Scuderia. That Ferrari's home race takes place on Sunday can only add to the swell of speculation surrounding a possible return to the team with whom Raikkonen won the 2007 title, yet there is an undercurrent in the Monza paddock that the 33-year-old is seen as a genuine option.
Raikkonen departed Ferrari a year ahead of schedule at the end of the 2009 season to make way for Fernando Alonso but he insisted - and not for the first time - that there have been no hard feelings.
It was also not the first time this summer that he had appeared rather lost amid the deluge of journalists who descended upon Lotus demanding to know his next move. Indeed, such was the welter of interest in Raikkonen at Spa two weeks ago that it apparently caused him to be struck down by a mystery 'illness'.
He was, thankfully, well enough to attend to his media obligations this time but Raikkonen, as usual, gave little away - his well-practiced, straight bat routine interspersed by an occasional flash of exasperation at being asked "the same questions".
"I never had anything against anybody and always certain things can be different to how they were in the past," he said of his current relationship status with Ferrari.
"We'll see what happens next year and we'll let people know once we know. Like I said, nothing has changed since the last race; you can ask as much as you want."
It's been said that if Raikkonen had a beef with anyone at Ferrari then it was with Luca di Montezemolo. The marque's President traditionally attends the Italian GP on Saturday and surely the speculation will turn feverish if the two of them are sighted even within reasonable proximity of each other.
According to Raikkonen, that much hasn't happened since his F1 return. Yet he's happy to let bygones be bygones. "I haven't seen him," he claimed. "I've talked to many people since my comeback. I've nothing against any people; the past is the past and that's it.
"I don't know why it would be different this Saturday or any other Saturday."
Of course, interest has shifted squarely towards Ferrari because of Red Bull's announcement on Monday night that Daniel Ricciardo will partner Sebastian Vettel in 2014. But if Raikkonen was disappointed by that turn of events he wasn't showing it.
"I think we met briefly between the last races, but this is what happens. It wasn't really a surprise for me," he said his flirtation with the World Champions.
"I don't think anything went wrong. They wanted different things - go and ask them. I don't know. For me, it doesn't really matter. It's fine and it's not the first time. Sometimes you speak to people and it doesn't work out.
"They have the option they think is the best, so that's fair enough."
And what of his current team? It seems that Lotus' cashflow is more of a concern to Raikkonen than either their competitiveness or the relaxed working environment they provide - the latter of which their star driver seems particularly comfortable in.
"They know the reasons why it's not going forward right now and until they sort out those issues, we cannot really talk about next year," came the reply. "They know exactly the reasons."
'Silly season' talk finally over, it almost seemed as if the subject of Raikkonen's current World Championship campaign was raised out of politeness.
It has faltered after his retirement - Raikkonen's first since last season's comeback - in Belgium two weeks ago and, sounding less equivocal for once, he acknowledged as much.
"It's even more difficult than before the last race. But we still have a chance, try to do the best that we can and see where we end up," Raikkonen, who now stands fourth in the drivers' standings 63 points behind Vettel, said of his title challenge.
"It's not going to be easy and probably isn't going to happen but we'll do all that we can to get any points back. There's still quite a few races left."