Kimi Raikkonen believed to be closing in on return to Ferrari for 2014 season
Ferrari though continue to insist that no decision taken yet
By James Galloway and Pete Gill
Last Updated: 10/09/13 1:50pm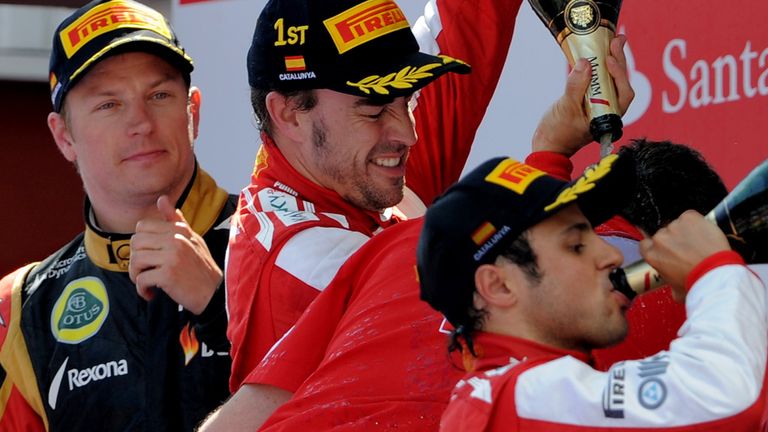 Speculation Ferrari are gearing up to bring Raikkonen, their last title-winning driver, back to the team he left at the end of 2009 escalated over the Italian GP weekend.
Sky Sports F1 columnist Mark Hughes reported on Friday that the Scuderia were giving serious consideration to rehiring Raikkonen as a replacement for the faltering Felipe Massa.
It is now believed the terms for Raikkonen's return have been finalised between Ferrari and the Finn's management, with Hughes tweeting on Monday morning:
Am hearing Kimi/Ferrari deal now agreed. Dramatic developments ahead? #SkyF1

- Mark Hughes (@SportmphMark) September 9, 2013
.
However, it's thought that the deal is yet to be signed, and a Ferrari spokesman has told Sky Sports Online that a final decision over the team's 2014 line-up is still to be rubber-stamped by the Scuderia hierarchy.
Ferrari Team Principal Stefano Domenicali confirmed to Sky F1's Martin Brundle at Monza on Sunday that he intends to sit down "over the next couple of days" with President Luca di Montezemelo "in order to finalise the choice for next year".
Speaking on Monday, the team spokesman added: "We still haven't done what Stefano has said we would have done and what our chairman has said."
In addition to Raikkonen, it is believed that current Sauber driver Nico Hulkenberg also remains in the frame for the second Ferrari drive, while the long-serving Massa retains hope of a ninth season in the seat.
But it's the prospect of Raikkonen returning to Ferrari which is particularly intriguing.
"While Kimi's move would help Ferrari do better in the constructors' race - it's inevitably going to lead to a change in the way Ferrari operate," mused Sky Sports F1's Ted Kravitz.
"Fernando has been indulged in having a clear number two driver who will do any work necessary to help him win the Championship, but that's less likely to happen with Raikkonen in the other car, unless Kimi is mathematically out of the title race.
"So it will be a complete change in the way Ferrari operate. No longer will they be able to just send the number two out to test some new parts in unfavourable track conditions, for example, or deliberately incur a gearbox penalty to move Fernando onto the clean side of the grid, as they did in Austin last year, or get the other driver to do the boring long-running on a tyre in practice that Fernando doesn't want to do, using up valuable mileage, because Kimi won't do that."
Assuming, of course, that Alonso will be Raikkonen's team-mate in 2014. As the F1 fraternity prepared to leave Monza on Sunday night, rumours were swirling that the Spaniard's own position with the team may be in doubt despite the 32-year-old holding a contract until 2016.
After Ron Dennis's assertion at McLaren's 50th anniversary celebrations on Saturday night that the team urgently needed to get back to winning ways, the Woking team, who Alonso left after a single, turbulent season in 2007, are still yet to exercise their option on either Jenson Button or Sergio Perez next season, prompting some to wonder if Alonso could make an unexpected return.
"On Sunday Martin Whitmarsh seemed to leave the door open to Alonso at McLaren despite how their relationship ended," added Kravitz. "As next year is going to be all about the engines and new hybrid systems and everyone in the paddock seems to agree that Mercedes are currently ahead of everybody else in terms of their development on this, Alonso might be thinking that he needs to get himself into a Mercedes-powered team.
"It's a fascinating few weeks ahead."