F14 T's aerodynamic performance boosts Ferrari after opening 2014 test
On-track results matched forecasts from refurbished wind tunnel
By Pete Gill
Last Updated: 04/02/14 4:13pm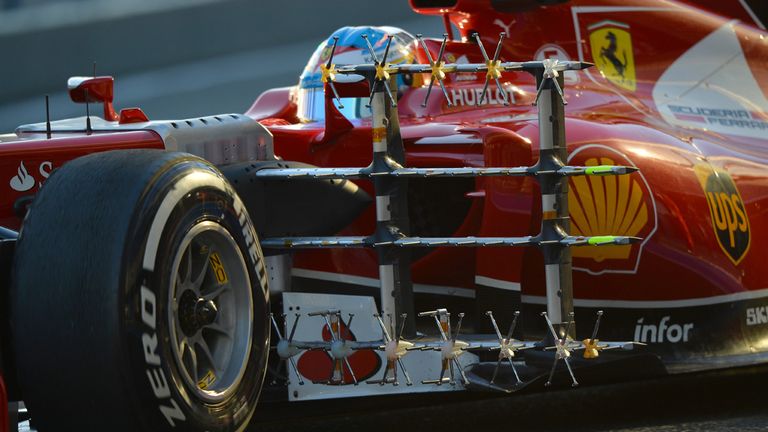 Ferrari's correlation problems with their wind tunnel are longstanding and the team's facility was temporarily closed last year - with Ferrari using Toyota's tunnel in Cologne as they prepared their new car for 2014 - for refurbishment after the aerodynamics of the under-delivering F138 failed to match expectations.
Acknowledging both the long-time weakness and the importance of updating the Maranello facility, team boss Stefano Domenicali told Sky Sports in October: "It's crucial for us. For two years, maybe more, we had correlation problems with small models, so we are really looking forward to opening up again. That will be a massive tool to use.
"It's like playing basketball with one hand behind. You do it for training but when you play, it's better to use two hands."
The four days in Jerez, in which the F14 T debuted and immediately put over 250 laps under its belt, thus represented a critical test for both car and the team's aerodynamicists. The news that the car's track performance echoed results from the wind tunnels will thus be greeted with considerable relief by the team and their legions of supporters.
"The technical parameters of the F14 T, as well as the aerodynamic validation we saw on track, match our expectations and provide a solid starting point, which we must now exploit as much as possible," Domenicali told Ferrari's official website.
"We can't evaluate performance levels at the moment, neither that of the F14 T, nor those of our rivals. The important thing is to do as many laps as possible to give our engineers the data they need to continue with the development of the car. It would be premature to make any precise evaluations. What counts for more is to have clear ideas on what we must do now and on the direction to take, so that we arrive in Melbourne in the best possible shape."
The Ferrari Team Principal also took the opportunity to reiterate his confidence that the Scuderia's new driver line-up of Kimi Raikkonen and Fernando Alonso would also correlate on and off track despite dire predictions of implosion following the team's decision to rip up their unofficial policy of operating with a clearly-defined number one driver.
"I was also very pleased to see, even if was hardly a surprise, how our drivers worked in harmony and that they have already provided excellent feedback relating to the development of the car," said Domenicali.
Despite their regular depiction as polar opposites, it's understood that Alonso and Raikkonen provided similar feedback on the F14 T, further boosting the team's ambition of developing their new charger into a title-winning contender.
The Sky Sports F1 Online team will be providing live commentary of all three winter tests with live updates from trackside also on Sky Sports News. The next test, in Bahrain, begins on Wednesday February 19.