Fernando Alonso reveals he was struggling with a lack of power during qualifying
Spaniard out-qualified by Kimi Raikkonen for the first time in 2014
By William Esler
Last Updated: 05/04/14 8:09pm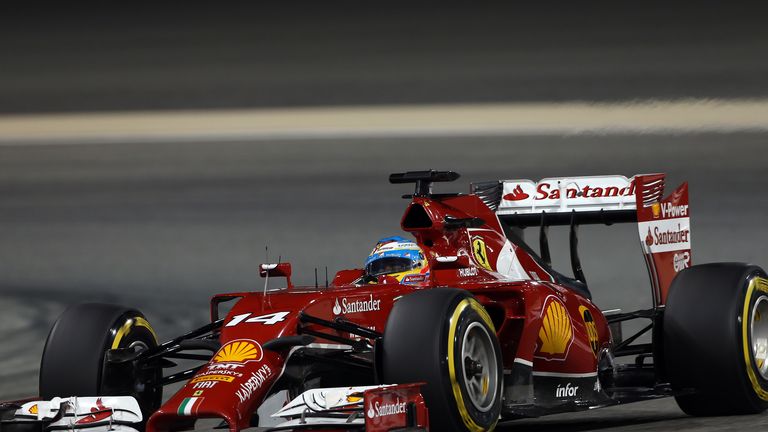 The Spaniard set the slowest time of anyone in Q3 and will line-up ninth courtesy of Daniel Ricciardo's grid penalty. That leaves Alonso four spots behind Kimi Raikkonen - the first time he has been out-qualified by the Finn since they became team-mates at the start of the season.
"It was not a clean qualifying, unfortunately I was losing power through the whole of qualifying," the double World Champion told Sky Sports F1.
"Every lap that we went out the car seemed to be slower and slower on the straights so we need to check if there is something damaged or if there is something we could do better tomorrow maybe in the floor of the car or whatever or if there was something in the electric motor that was not perfectly combined.
"But it is true that doing a 34.2 in Q2 then in Q3 with less fuel and better track conditions to do 34.9 is not ideal when it counts. But it is the way it is, tomorrow starting from the clean side in ninth we can still do a good race. We need a good start and a good strategy."
Alonso may be hoping to move forwards on Sunday, but he is all too aware of the threat posed from behind in the shape of Sebastian Vettel's Red Bull and the Force India of Nico Hulkenberg with whom he battled in Malaysia.
"I think we need to be aggressive in terms of strategy as we have not much to lose," he added.
"In ninth we are nearly out of the points so we need to improve that position and we need to recover so we will see what we can do. There are people behind who will be very strong like Vettel, like Hulkenberg etc so it is not easy. We need to look at the many cars around us and hopefully beat them."
Raikkonen's performance will serve as a timely reminder to those at Maranello that they have two World Champions in their team. But whilst happy to beat Alonso, the Finn says he has bigger goals in mind.
"It helps, but my plans are much bigger than one qualifying," Raikkonen revealed. "The plan is to put the team where we want to be then sort out the rest."
Having struggled to feel comfortable in F14 T this season, Raikkonen feels the team turned a corner between final practice and qualifying in Bahrain.
"I think we have definitely done better now - obviously yesterday was difficult, this morning was also a bit tricky, but it wasn't too bad it qualifying," he added.
"Sixth is not what we were after, but I think overall we have improved in all areas and I am more confident and happy in the car so it was one of the better days."
Raikkonen started from sixth in the Malaysia Grand Prix last week, but contact with Kevin Magnussen early in the race dropped him to the back of the pack and he will be hoping for better luck on Sunday if he is to reignite the intra-team battle at the Scuderia as he already trails Alonso by 18 points.