Kimi Raikkonen sure Ferrari will make a breakthrough with underperforming F14 T
Ferrari working on "a lot of updates" for Canada and beyond
By James Galloway
Last Updated: 21/05/14 9:36am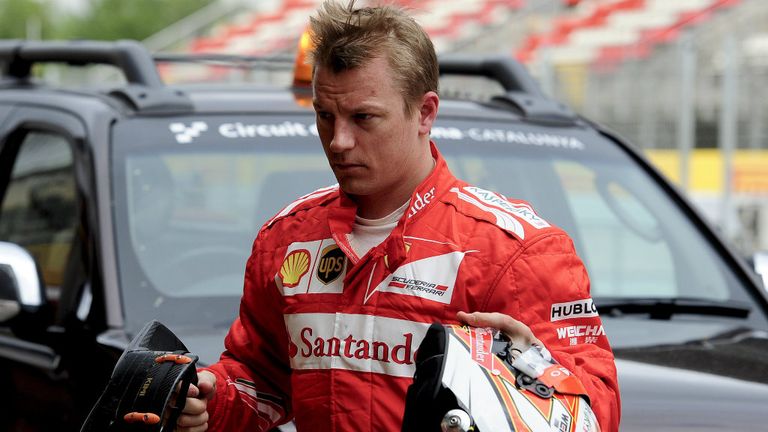 From claiming their first podium finish of F1's new era with Fernando Alonso in China last month, Ferrari slipped back behind both Red Bull and Williams in Spain as their two drivers trailed home in sixth and seventh places, with Raikkonen even lapped by the Mercedes pair.
The 2007 World Champion stayed on at the Circuit de Catalunya to complete both days of testing with the F14 T and recovered from a problematic day one, when power unit problems and a spin restricted him to just 21 laps, to register 115 laps across the test.
Amid the latest round of Ferrari's now long-running attempts to improve their qualifying performance - the team have only once started on the front two rows so far this season and overtaking is nearly impossible at Monaco - Raikkonen sees signs of steady overall improvement.
"Qualifying can have a big effect on the outcome, an area on which we are doing our utmost to improve," Raikkonen, who won in Monaco in 2005 from pole with McLaren, told Ferrari's official website.
"After the last race, we stayed on in Barcelona for the test, which was reasonably positive: we had problems at the start, but by the end, I can say I was pleased with the work we managed to get through.
"The F14 T is improving and I am sure that, step by step, the results will come, but we must push harder to get them."
The last race in Spain marked a full calendar year since Ferrari's last race victory - their longest drought for two decades - while Monaco is a race they haven't won for 13 years.
With the unique layout of the street circuit meaning the race is effectively a high-profile one-off, Ferrari's Deputy Chief Designer Simone Resta says development work aimed at improving the F14 T's competitiveness for the more conventional summer races is well underway.
"For the races that follow Monaco, Canada, Austria, UK and so on, in Maranello we are currently working very hard to introduce a lot of updates to move forward on the F14 T's performance level to close the gap to the quickest cars," Resta said.
The Monaco GP is live only on Sky Sports F1. The channel's extensive coverage begins with Practice on Thursday May 22.