'Utterly overwhelmed' Michael Schumacher family 'moved by vigil' in Grenoble
F1 legend may have been wearing a helmet camera when he crashed
By Sky Sports Online
Last Updated: 04/01/14 9:16am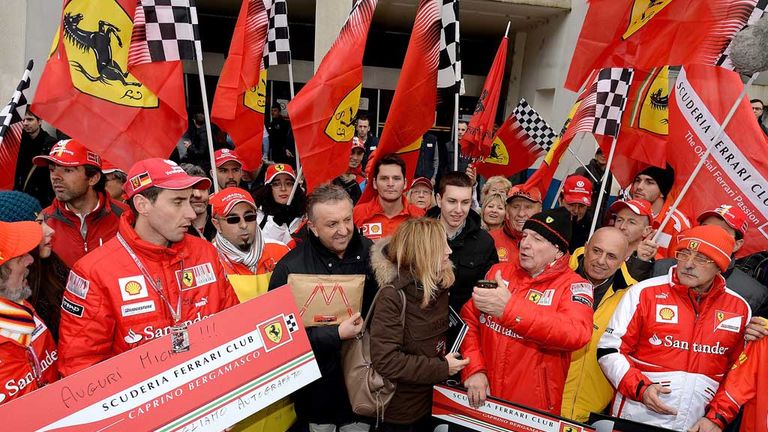 Schumacher should have been celebrating his 45th birthday with his family but instead remained in an artificially-induced coma at the Grenoble University Hospital, where he was rushed after suffering major brain trauma in a skiing accident in the Alpine resort of Meribel on Sunday.
Some 200 people from Ferrari fan clubs based around Europe made the trip to the hospital, where a tribute was held in support of the seven-time Formula One world champion.
A message which read "45 Schumi stay stong! Keep fighting!" was also projected onto the side of the hospital after darkness fell.
Schumacher's family, who on Thursday said Michael "is a fighter and will not give up" his fight for life, expressed their sincere appreciation following Friday's tributes, which were largely co-ordinated by Ferrari.
"The incredible sympathies shown today by the Ferrari Fans outside the hospital has utterly overwhemed us and moved us all to tears," Schumacher's family said in a statement on his official website.
"We are deeply grateful for it and also for all the heartwarming and heartfelt wishes for Michael to get well soon, which have reached us from all over the world."
Schumacher's family - wife Corinna and their two children, father Rolf and brother Ralf - have maintained a presence at his bedside since the weekend.
Schumacher won the world drivers' title for five successive years between 2000 and 2004 while driving for Ferrari and 72 of his record 91 grand prix wins also came with the Scuderia.
A Ferrari statement read: "This is a special day for Ferrari and all its fans as it is Michael Schumacher's birthday.
"At the moment, he is tackling the most important fight of his life and therefore we want to send him very special wishes.
"Everyone at Ferrari, from president Luca di Montezemolo and team principal Stefano Domenicali, who are in touch all the time with Michael's family and those closest to him, are continuously watching how his situation evolves.
"Obviously, today there are double the reasons to wish him all the best. Forza Michael!"
No update was given on Schumacher's condition - which remains stable but critical - by the hospital or his management on Thursday and that was again the case on Friday.
"We understand that the situation is essentially the same as it has been in the last couple of days so we are now looking at 80 plus hours of Michael Schumacher in a stable condition and although he hasn't improved, that is a platform at least for his doctors to continue to treat him," reported Sky Sports News' Craig Slater.
Meanwhile, sources in France claim that authorities investigating the accident are inspecting a mini camera that was attached to Schumacher's helmet at the time of the accident.