HRT still hopeful over testing
HRT targeting the final day of official winter testing at the Circuit de Catalunya on Sunday to finally roll out their F112.
Last Updated: 01/03/12 2:23pm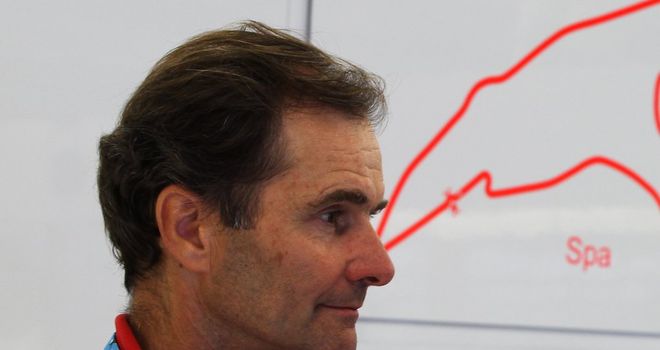 HRT remain hopeful that they will be able to run their 2012 car before they fly out to Australia, the team ideally targeting Sunday's final day of testing.
The Spanish-backed squad had been aiming to get the F112 out on the track in time for the entirety of this week's final four-day test at Barcelona but the failure of two crash tests last month delayed the roll out of the new car.
Although the chassis has now been given the all-clear by the FIA, HRT are still in a race against time to get the car prepared in time for some running before pre-season testing officially ends on Sunday with only promotional filming or straight-line testing likely to be permitted before the season-opener thereafter.
Appearing on the panel at the latest FOTA Fans' Forum in Barcelona on Wednesday night, HRT team principal Luis-Perez Sala indicated the team were pushing hard to get some form of running in.
"It's been a really hard winter," he admitted.
"Our car is not ready yet and we will see if we can manage to test in Barcelona hopefully on the final day, or on Monday."
Earlier this week the FIA clarified the wording of F1's sporting regulations regarding testing which put a stop to plans Ferrari and Red Bull had to run into the start of next week at Barcelona, with the cut-off date for full track testing before the blanket ban prior to the three-day Mugello session in May confirmed as March 5.
Meanwhile, lead driver Pedro de la Rosa, speaking at the same event as Sala, confirmed the new HRT chassis had been designed around KERS, but that the team would assess later in the season whether or not to start running with the energy-storage system.
"The car is deigned to use KERS, however the team has decided to start without KERS," he said.
"Throughout the season once we have more test to test and be in Europe we will make the decision to see if we adopt it or not.
"But the main thing is the car is designed around KERS."