HRT: More laps crucial at Sepang
Pedro de la Rosa says it is vital HRT spend as much time as possible on the track at the Malaysian GP if they are to qualify at the second attempt.
Last Updated: 19/03/12 3:11pm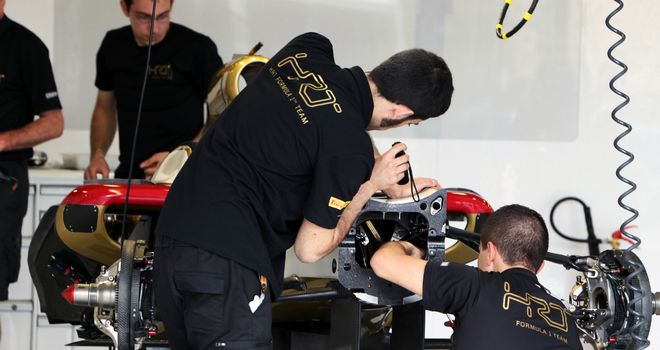 Pedro de la Rosa says it is crucial that HRT complete more track running in Malaysia if they are to improve the competitiveness of their 2012 car and qualify at the second attempt.
For the second successive season both of the Spanish team's cars failed to make the 107% qualifying cut at the season-opener in Australia, with both de la Rosa and team-mate Narain Karthikeyan barred from competing in the race by the stewards despite the team applying for dispensation.
HRT completed only a brief promotional filming day with the F112 prior to travelling to Melbourne, although Spanish veteran de la Rosa's first laps in the car actually came in Friday practice - and only then did he complete seven laps as the team had to make up the second chassis in the garage.
De la Rosa pinpoints the adjustable rear wing and the car's power steering system as the key areas to focus on, with more mileage on Friday and Saturday a necessity.
"Our two main priorities for Malaysia are to have DRS and improve the power steering in this short time that we have whilst being away from Europe," he said.
"In Australia we were only able to complete seven timed laps so I need get more track time, get to know the car better and improve the set-up. If we can achieve this then we could have a good Grand Prix."
New Team Principal Luis Pérez-Sala is confident both the car and HRT as a whole have much potential to fulfil and is optimistic they will be able to make a step forward at Sepang and get closer to a more competitive pace.
"Winter has been a period of hard work where we have achieved many things in a short period of time. But this is Formula 1 and what counts in the end are results so, although for us it was important to make it to Australia and run from the first day, to have made it so far and not quite make it didn't please anyone," he said.
"Anyways, the F112 is a young car with potential and the team is also new and promising. They both need running time and adaptation, but we are aware that the Championship doesn't stop and there is no time to lose.
"That is why we will continue to work to the maximum as we have done until now and I'm confident that in Malaysia we will continue to progress and take that extra step to improve".