Pedro de la Rosa admits surprise at being given chance to test new Ferrari at Jerez
But Spanish veteran pleased to be given "unique opportunity"
By James Galloway
Last Updated: 29/01/13 11:35am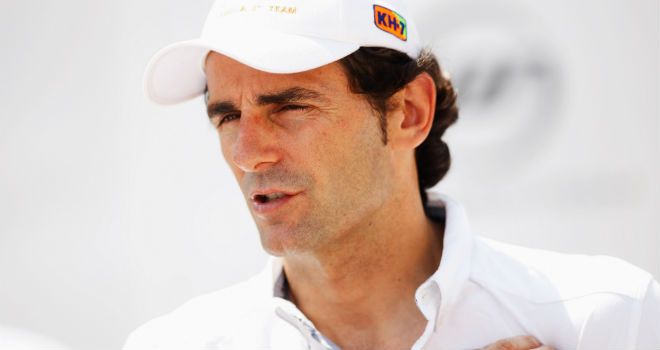 After being left without a race seat following the demise of former team HRT, the Spanish veteran was recruited by Ferrari earlier this month to primarily serve as a development driver in their Maranello simulator.
Since F1's winter testing schedule was cut to first 15, and then 12, days the sport's top teams have tended to only run their race drivers during the winter.
However, with Fernando Alonso opting to skip the opening test of 2013, Ferrari revealed that de la Rosa would make his debut behind the wheel of a Ferrari on the final day of the opening week at Jerez.
The 41-year-old admits he was surprised to be given the run-out, but says it will definitely prove useful for his future simulator work.
"I've seen the new car in the factory, as it is being prepared for the first test," he said.
"I am very happy to be able to test it and honestly I had not expected that. It's a unique opportunity to begin to understand how the car works and how I can help with the work in the simulator."
Prior to joining Spanish minnows HRT at the start of last season de la Rosa had spent the best part of a decade carving out a reputation as an accomplished test and development driver for Ferrari's rivals McLaren.
He says he will only continue to learn more now he's joined another top team and is pleased that his work will aid countryman Alonso's chances in 2013.
"I'm starting a new phase of my life: for a driver it's important to work with the big teams, especially because you can learn from the best engineers and professionals in this sport," de la Rosa added.
"I am proud that Ferrari had faith in me, especially as it means I will be able to help a Spanish champion, in the shape of Fernando Alonso."