Glock withdrawn by Marussia
Timo Glock will not take part in the European Grand Prix in Valencia, the German being advised to rest as he recovers from illness.
Last Updated: 24/06/12 12:00pm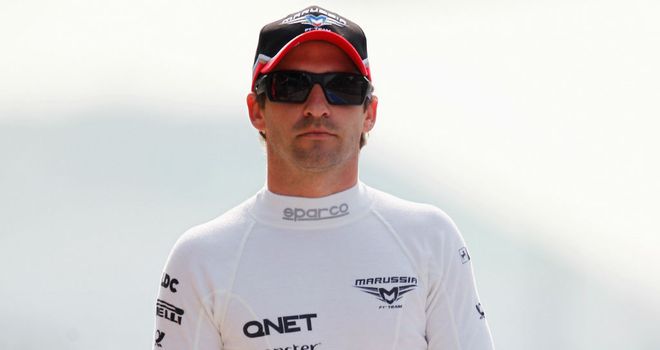 Timo Glock will not take part in the European Grand Prix in Valencia due to an intestinal infection.
The Marussia driver fell ill on Thursday, although he did go on to take part in all three practice sessions at the Valencia Street Circuit.
However, he was forced to sit out Saturday's qualifying and although he would have been allowed to start the race at the back of the grid, he has been told to rest following further medical examinations.
A team statement read: "Further to the medical problem which prevented Timo from participating in yesterday's qualifying session, the Marussia F1 Team can confirm that Timo is unable to compete in today's race.
"Timo received medical guidance yesterday afternoon and his symptoms suggest he is suffering from an intestinal infection.
"He has been advised that it would be unwise for him to race given the severity of the complaint and that he should focus instead on recuperating.
"Timo spent the evening resting at his hotel in Valencia and is in good spirits. He will return home later today."
Had his condition improved, Glock could have raced despite missing qualifying as stewards had given the German special dispensation based on his lap times during practice.
However, Marussia Sporting Director Graeme Lowdon said Glock's condition had taken a turn for the worse after Saturday morning's session.
"Timo was planning to drive in P1 and P2, and he did. And also he was planning to drive in P3 and he did. His condition went downhill after P3," Lowdon said.
"He didn't take part in qualifying but at that stage there was still a view that he would be okay for the race."
Lowdon also explained that the team never considered using another driver - which they are allowed to do with the stewards' permission - as it had always been their hope that Glock should race.
"When you're operating as a team, you have to take the safety of the driver into consideration obviously but you're looking at what gives the best result for the team," he added.
"And the best result of the team at any of those stages would not have been to put a reserve driver in, based on the information from the medical people."