Focused Nico Rosberg aims to crown landmark week with first German GP win
Newly-married Nico insists he's taking title fight one race at a time
By James Galloway
Last Updated: 17/07/14 3:44pm
Nico Rosberg has admitted it would be an "amazing end" to a landmark week in his life and career if he could win his home German GP for the first time, as the championship leader sets his sights on reopening his championship lead over Lewis Hamilton.
The Mercedes driver has arrived at his and the team's home Hockenheim event at the end of a whirlwind week in which he first got married to his long-time girlfriend Vivian before on Monday extending his contract at the Anglo-German team by at least two more seasons.
Rosberg, who has also been celebrating Germany's World Cup success, suffered his first retirement of the 2014 campaign a fortnight ago at Silverstone which saw his title lead cut from 29 points to just four after team-mate Hamilton won the race.
And the 29-year-old is looking forward to the intra-team rivalry that is dominating the season recommencing this weekend, with a fourth win of the season, but first in Germany, his main target.
"It's a great battle between us," Rosberg said in Thursday's Drivers' Press Conference, in which he again played down Hamilton's 'joking' remarks about his national allegiances.
"Every race it's been us two fighting it out for the win and it's fantastic. A tough battle also but good. I'm sure it's going to continue for a long time and it will be very close.
"I look forward to the race here now. It's my second home race – I have Monaco and here – and so I'm very fortunate in that sense. So I look forward to the support and really hope to do a fantastic job and it would an amazing end to the already great times I've been having recently if I could win here at the German Grand Prix."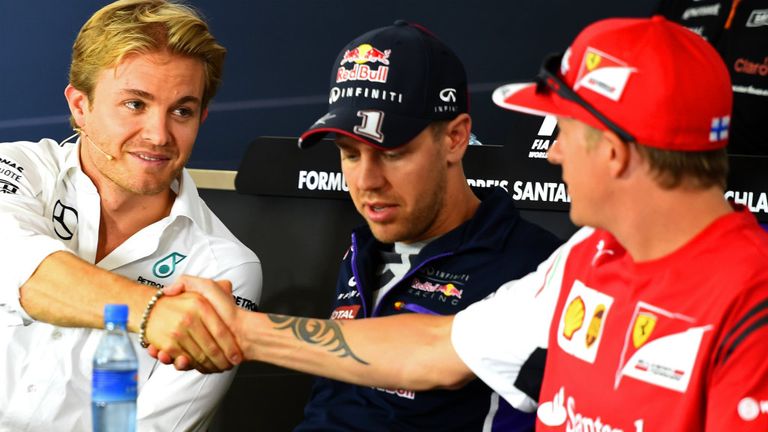 After all-but wiping out his team-mate's championship advantage at the last race, Hamilton has described this weekend's event as a "fresh start" in the title battle. Rosberg, however, insists he is just focusing on this race in isolation.
"I just see it as the next race, which is Hockenheim," the German said.
"It's our home race so I really look forward to driving here and I'm here to win of course and extend the championship lead. That's where it ends for me. I'm really just looking it at the moment and just taking it race-by-race."
While Rosberg has never finished higher than fourth at either Hockenheim or the Nurburgring since arriving in F1 in 2006, Mercedes last triumphed on home soil as a constructor exactly 60 years ago with the great Juan-Manuel Fangio.
But with eight wins from nine so far this season, and massive leads in both World Championships, Rosberg says the Brackley outfit are displaying the kind of team work which he believes was pivotal to the German football team's success in Brazil.
"The effort of the team as a whole and how they played together was really great to see – and that's what won them the tournament I think, not any individual strength," he reflected.
"That's what we are trying to do in our team as well, everyone work together to make the most of it. I think we're on the right track with that as to dominate the sport as we are at the moment that indicates we work pretty well as a team. Of course there's room for improvement but we're going in the right direction."
Having donned a German national shirt to watch the World Cup quarter-finals at Silverstone, and then flown straight home from last week's post-race test to take in his country's thrashing of Brazil in the semi-final, Rosberg is wearing a special commemorative helmet this weekend.
However, the original design has had to be altered after FIFA, football's world governing body, asked the German's management to remove the image of the World Cup trophy for copyright reasons.
"All the things you have to think of, it's amazing that even a trophy has its trademark," Rosberg admitted. "That was a surprise but of course I fully understand."
In truth, the only trophy the championship leader really wants to keep his hands on is the winner's one at Hockenheim on Sunday. 
Watch the 2014 German GP live only on Sky Sports F1. Extensive coverage from Hockenheim begins with Friday Practice from 8:45am on July 18.