Sergio Perez says 'I expect to come back' with McLaren for a second season in 2014
Mexican reckons decision over his future has already been made
By James Galloway in Greater Noida
Last Updated: 27/10/13 7:41am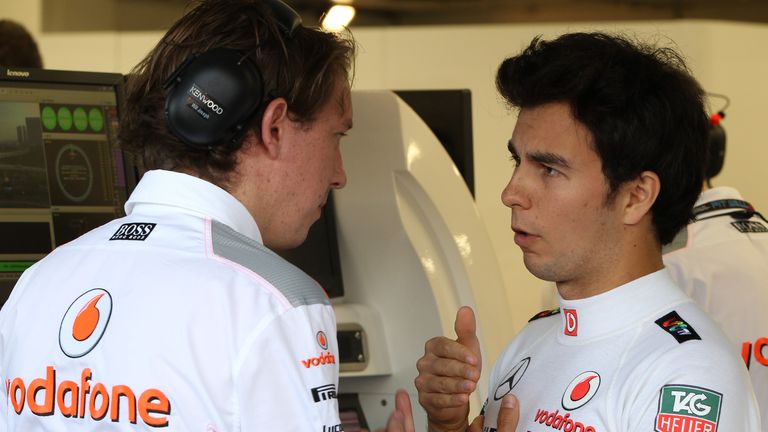 Although McLaren have unusually not yet officially announced either of their drivers for next season, effective team leader Jenson Button has already sealed a one-year extension to his existing contract but uncertainty has surrounding Perez's future after an indifferent first year at Woking.
McLaren Team Principal Martin Whitmarsh has reiterated on several occasions that he 'expects' the outfit to field the same line-up in 2014, but the long delay in confirming their plans has prompted speculation that other drivers, such as Ferrari's Fernando Alonso and the team's own protege Kevin Magnussen, are being considered as alternatives to Perez.
But asked at the Indian GP if the wait for official news on his future had led him to talk to other teams to guard against the possibility of his McLaren contract not being extended, a confident Perez replied: "No, not really. I am confident I will stay here.
"I haven't seen the need to go after any other team. I expect to come back with this team, I believe in the team and I really think we can be fighting for the Championship next year."
Indeed, in a further strong hint that he will be handed a second season at McLaren, a smiling Perez replied "I think it's made, you can ask..." before gesturing towards Sporting Director Sam Michael, sitting alongside him in the team's Saturday press conference, when asked if a decision still had to be taken about his future.
Although Michael in turn sidestepped the direct issue of Perez's future, the Australian did reiterate Whitmarsh's previous public position on the team's 2014 line-up.
"It's been a difficult year, and a lot of that has been inflicted by ourselves because the car hasn't been quick enough - particularly the first half," Michael admitted.
"Both these guys [Button and Perez] have carried the company really well throughout that period, we're really happy with the job that they've both done.
"As Martin has said a few times before, the most likely thing is that these will be our two race drivers for next year."
He added that the 23-year-old Mexican was handling the situation well.
"I think Sergio's focus now is really good," Michael added. "He's doing all the right things, he's keeping his head down. He's focusing on delivering in the remaining races for this year and that's what a professional racing driver does. The type of pressures that they face are normally much bigger than what you or I deal with and he's doing a good job with it."