Sergio Perez announces his McLaren departure at end of the 2013 season
Kevin Magnussen now poised to join Jenson Button in 2014 line-up
By James Galloway
Last Updated: 18/11/13 5:03pm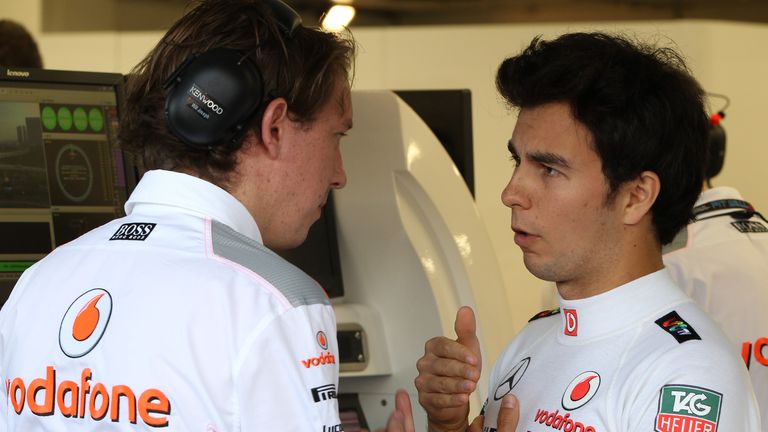 The Mexican was signed as the successor to the Mercedes-bound Lewis Hamilton after three giant-killing podium finishes at Sauber last year but has endured a disappointing campaign amid McLaren's worst run of results since 1980.
Although it had appeared recently that Perez was edging towards a contract renewal for 2014 to stay on alongside Jenson Button, sources revealed to Sky Sports F1 last week that McLaren's young protege Kevin Magnussen had emerged as a serious contender to replace the Mexican.
A bold promotion for newly-crowned Formula Renault 3.5 Champion now appears highly likely after Perez - who has scored just 35 points this term, compared to Button's 60 - announced his own departure following the season-ending Brazilian GP via a message posted on Twitter on Wednesday evening.
In a lengthy but gracious statement, the 23-year-old insisted "I do not even regret a bit joining them" despite his time at McLaren proving to be surprisingly brief.
"First of all, I would like to thank McLaren for giving me the opportunity to be with them this season," Perez's statement read.
"It has been an honour for me to have been in one of the most competitive teams in the sport and I do not regret even a bit having joined them. I have always given the best of me for the team and still despite this I could not achieve what I aimed for in this historic team.
"I am committed to deliver very good results in these last two races, especially in Austin. I am so much looking forward to see all my people gathered there, feel their energy and show them the best of me.
"I would like to say to every single one of my fans around the world and in my country that I am eternally grateful to them. They have never let me down, especially in difficult moments like these. I truly appreciate their support, they have never forgotten me.
"I have met a lot of new people at McLaren this season and I have made many good friends as well. From the top management level to marketing, accounting and engineering departments to the mechanics, the cooks, the catering people and basically everyone in the team, I am eternally grateful to them. It has been a learning experience to me."
With his McLaren career to run to just 19 races, Perez's 2014 plans to stay on the grid now appear uncertain although he has already been linked with vacant seats at Force India, Lotus and even a return to Sauber. His career is also supported by Mexican billionaire Carlos Slim's Telmex communications firm.
Indeed, Perez has expressed hope that he will be able to continue with a competitive team next season.
"I would like to wish the team the very best in the future. I will always be a fan of McLaren, in the meanwhile I will be looking at my future to ensure my position in the best possible package to fight for wins," Perez added.
"Thanks to McLaren and all its partners for this season, you can rest assured that I will never give up."
In response, McLaren released a statement from Team Principal Martin Whitmarsh. "First of all, we would like to thank Checo for his kind and gracious statement, and for being a fine team member during the 2013 Formula 1 season," it read.
"There are still two grands prix yet to run this year, and our collective focus is on scoring as many points as we can in those two remaining races.
"Checo has made many friends during his time at McLaren - and, together, as a team, we intend to do our utmost to help him finish his year with us with two good results, especially here in Austin, where he has so many fans.
"We wish him well for the future, and are sure that he will have many successes ahead of him.
"As regards our driver line-up for next year, no 2014 deal has yet been signed with any driver except Jenson, and we therefore have nothing further to announce at this time. As and when that situation progresses, we will make a further announcement accordingly."