Austrian GP stewards reopen Sergio Perez and Felipe Massa Canadian crash case
Fresh hearing called for Friday afternoon could overturn Perez penalty
By James Galloway
Last Updated: 20/06/14 1:44pm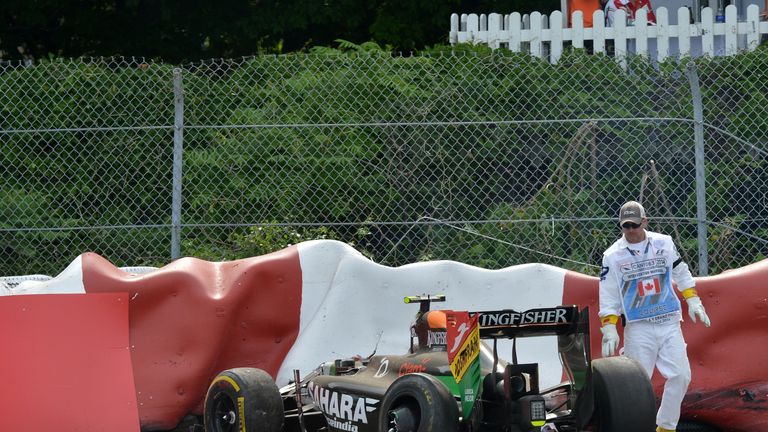 Austrian GP stewards have confirmed they will review the judgement on Sergio Perez and Felipe Massa's contentious collision from the previous race in Canada, with a second hearing convened for Friday afternoon.
The FIA had announced on Thursday that the stewards at the Red Bull Ring would investigate whether the case warranted reopening after Force India, aggrieved by the Montreal stewards' decision to find Perez at fault in the spectacular last-lap crash two weeks ago and impose a five-place grid penalty on the Mexican for this weekend, requested a review citing "new elements" in the case.
After meeting on Friday morning during Practice One in Austria to deliberate on Force India's request, the governing body duly confirmed that the stewards had decided to revist the matter in full with a second hearing set for 4pm local time on Friday. Perez, Massa and representatives from their respective Force India and Williams teams have all been called to give fresh evidence.
Neither driver was present to give oral evidence in the original hearing as they had both been transfered to hospital in Montreal for precautionary check-ups following their high-speed accident.
Although stewards in Montreal ruled that Perez had caused the accident as he had "changed his racing line", both the Mexican driver and his Force India team were left perplexed by the decision with both angered further by comments from Williams' Rob Smedley who suggested the Silverstone outfit should have retired their car well before the collision given it was suffering from brake problems.
Perez remained adamant when speaking on Thursday that he had done nothing wrong and the evidence Force India would present to the stewards would exonerate him.
However, the brewing war of words between the rival parties continued on the opening day in Austria with Massa declaring he would not trust Perez anymore.
"You cannot believe when somebody gets so many penalties and is causing so many problems, you cannot believe. I will not trust him any more, definitely," Massa said.
"If you know their history, most of the time it's the young drivers - especially him - that cause these problems. It's dangerous.
"If I made a mistake, I'd be the first to say, 'I made a mistake, I'm sorry' like I always did when I made a mistake. But people don't think in the same way, so I'm sorry for him and I hope he will learn. Otherwise, he'll pay more penalties in the future."
This weekend's Austrian GP is live only on Sky Sports F1. Race Day coverage begins with the Track Parade at 11.30am on Sunday