Romain Grosjean insists his use of a psychologist is a strength, not a weakness
"You can always improve yourself," Romain says after improved 2013
By Mike Wise
Last Updated: 16/12/13 4:37pm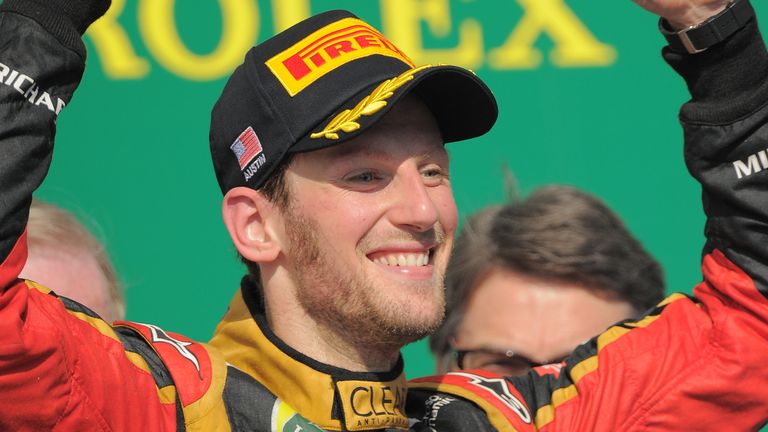 The Frenchman has taken great strides to banish his 'fast but fragile' reputation thanks to a series of strong performances during the second half of the year. Grosjean eventually claimed six podium finishes and it came as no surprise three weeks ago when Lotus announced that they have retained him for next season.
There were plenty who considered Grosjean fortunate to have been asked back this year after the string of crashes he caused in 2012 but the 27-year-old has since managed to ally his speed with consistency. Indeed, on more than one occasion during the Championship run-in, he seemed the driver best able to mount any sort of challenge to Sebastian Vettel.
Changes in Grosjean's personal life - he became a father during the summer - have also played their part in calming him down. Speaking recently, however, he stressed that his decision to seek professional help has been crucial.
"She's used to working with very high-level athletes, almost all the French Olympic champions have been working with her," Grosjean said of his visits to a psychologist. "Sometimes we speak about some things, other times other (things) - it really depends where you are and what you need to work on.
"That's why I started - because I was clever enough to think that I needed help. It's not a proof of weakness; it's more a strong point. You can always improve yourself and that's why I still work with her right now once a week. It's either a phone call or I go to meet her and then we speak."
Grosjean said the sessions have left him better able to cope with pressure but cited this year's Monaco GP - a rare 'off' weekend, which featured several incidents culminating in a crash during the race with Daniel Ricciardo - as an example of how not to do it.
"There was a little bit on self-confidence, a little bit of doing this and that and not maybe carrying too much - the ordeal of things - stuff like that," he said.
"It's very specific and it's hard to say, 'This is what we've been working on'.
"I don't think the focus has been a problem but sometimes I've wanted to 'dance quicker than the music' like at Monaco this year. I missed the weekend completely because I wanted to go too fast for where we are.
"Being in the right time, doing the rights things and managing the pressure sometimes; managing the stress when it comes on for some reason and knowing why and how."
Pressure is something Grosjean will have to become even more adept at handling next season, when he steps out from the shadow of the departed Kimi Raikkonen to lead the Lotus line alongside new team-mate Pastor Maldonado.
"I'll continue it for a while because I do think you can always improve yourself. I do think it makes me a better man at home and a better driver as well. It makes my life much easier," Grosjean added.
"Seeing how people around you are acting as well helps you understand and face yourself.
"And then, as well, being ready to be a number one and a World Champion, which is not that easy at the end."