Romain Grosjean is hoping for a 'step forward' from struggling Lotus this weekend
Frenchman admits that Melbourne was about as bad as it gets
By Mike Wise at Sepang
Last Updated: 27/03/14 10:30am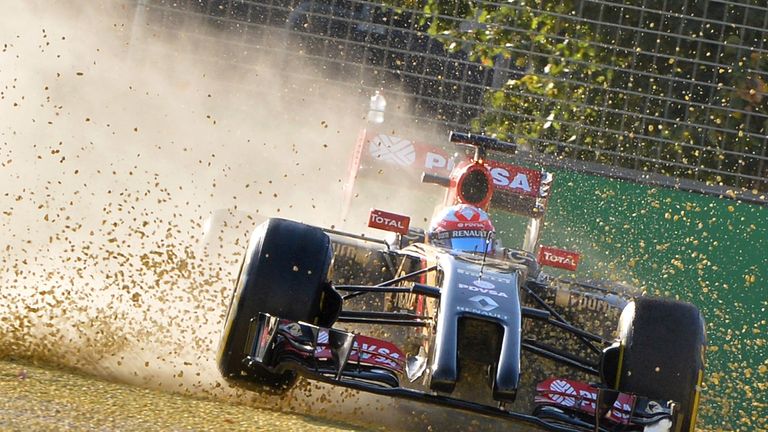 The exasperated Frenchman was heard to cry "unbelievable" over the radio during third practice on Saturday morning in Albert Park, such was the litany of problems bedevilling his E22. In terms of laps, Grosjean had barely reached double digits by then; he was, however, buoyed by the 45 he managed in the race.
Retirement inevitably beckoned but speaking in the Sepang paddock on Thursday, the 27-year-old was in a more optimistic frame of mind.
"I think we've made quite a lot of changes and [there's] a lot of areas where we've seen we can improve from the race data we learnt on Sunday," he said. "So hopefully we did our homework. I don't think everything is going to be 100 per cent but if it can be a good step forward then that would be nice."
Grosjean said the Melbourne weekend was amongst the worst he has experienced in F1 but added that Lotus's difficult winter had, to a large extent, prepared him for the struggle. "You have tough weekends in your life. Last year, for example, in Monaco I was super-quick but super-quick in the wall as well," he said. "Melbourne was a different weekend, in that you get there and know you haven't done enough mileage in testing and don't know where you're going to be.
"If you're extremely, extremely lucky things go right. But basically that wasn't the case."
Grosjean, who is effectively team leader at Lotus this year after Kimi Raikkonen's departure, admitted he shouldn't have lost his cool in P3. "I was shaking my head. I had to take pills after for a migraine, it was really bad," he said.
"Being angry would be the best thing to get your mind out of the right place."
With Lotus Technical Director Nick Chester admitting this week that the team might not be fully competitive until May's Spanish GP, Grosjean added that he had no choice but to wait.
"I don't want to be too confident or too careful," he added. "I just want to jump in the car, drive and see that the power unit is responding better: the state of charge and fuel management and so on is getting better. That our brakes system is better as well, that we use properly the tyres.
"If we do those three things then I think maybe it will be a big step forward. It's not going to be looking for the last tenth or last hundredth.
"If we put two and two together, we're not that far off the Red Bull. But we've got to put two and two together."