Caterham eyeing 'at least one experienced driver' as team close on 2014 line-up
Team "very, very close" to announcement amid Kobayashi rumours
By William Esler and James Galloway
Last Updated: 09/01/14 5:32pm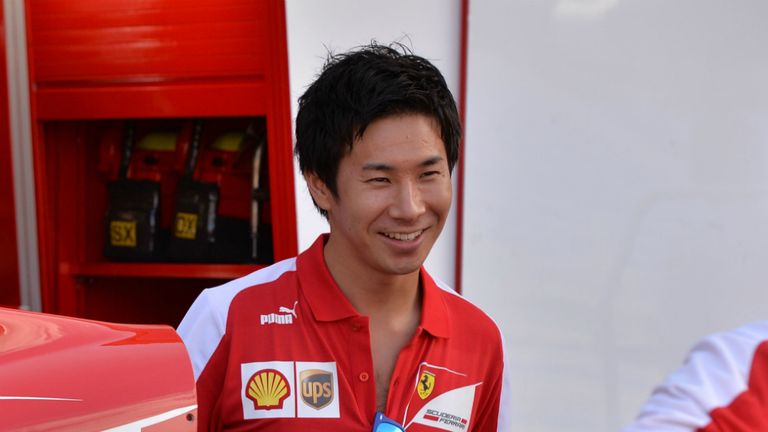 Despite the first test of the winter at Jerez - which the team have confirmed they will attend with their new car - being less than three weeks away, Caterham remain the only team on the grid yet to name either of their race drivers for the new season.
The Leafield-based outfit paired the inexperienced duo of Charles Pic and Giedo van der Garde last year and the two drivers are again thought to be in the running for 2014 alongside Caterham's ex-racer turned development driver Heikki Kovalainen, Swedish GP2 youngster Marcus Ericsson and Japan's Kobayashi, who was dropped by Sauber at the end of 2012.
Asked by Sky Sports Online at the Autosport International show about the link to Kobayashi, a Caterham spokesman refused to rule the Japanese, or other experienced names, out.
"There are lots of drivers being linked with Caterham at the moment which is very good news for us," the spokesman said.
"I think it's flattering that somebody of Kamui's experience, talent and popularity would be linked to our team.
"We will be making an announcement on drivers in due course and there are a number of drivers of Kamui's experience who are being considered."
Having paired former race winners Kovalainen and Jarno Trulli in their first two seasons of F1, and then replaced the latter with podium finisher Vitaly Petrov for 2012, Caterham's 2013 line-up boasted a combined total of just 20 starts at the top level between at the start of last year as financial considerations came into play.
But with big changes to the sport's engine and aerodynamic regulations for this season having placed a premium on experienced drivers elsewhere on the grid, the Caterham spokesman added: "I think you could guess that we would need to have at least one experienced driver in the car this year.
"It's particularly important with the new rules and the new car configuration that you have somebody who has some experience. Again, it's flattering that a team of our size and stature is being linked with experienced drivers and I think that's more than likely to be something that we will see."
He added that an announcement on their line-up could be expected imminently.
Asked about a likely timeframe for a decision, the spokesman replied: "Sometime before 9 o'clock on Tuesday 28 January [when the Jerez test starts]!
"Last year we did leave it a little bit late [van der Garde was announced four days before Jerez], we're not planning to do the same again this year. We are very, very close to be being able to make an announcement and it will be soon. We have a couple of weeks but we are aiming not to use all of them."