Caterham recruit Kamui Kobayashi reveals Ferrari wanted him to stay with them
But Japanese saw Caterham as his last throw of the F1 dice
By James Galloway
Last Updated: 22/01/14 4:39pm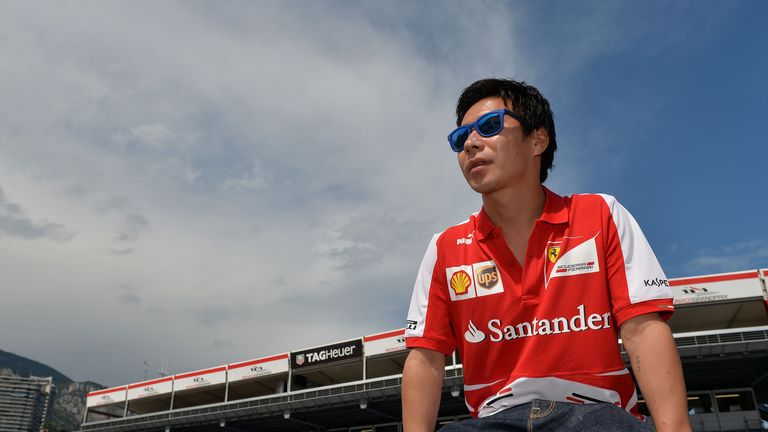 After being dropped by Sauber and then missing out on a seat on the grid completely for 2013, the popular Japanese driver was picked up by Ferrari to drive for their factory team in the World Endurance Championship.
Kobayashi, who finished on the podium four times in the WEC, also drove Ferrari's 2009 F1 car in a street demonstration in Moscow, although he infamously crashed in the rain-hit event.
Speaking after his deal with Caterham was confirmed, Kobayashi, who has revealed he is driving for free in 2014, told Sky Sports F1 that while he received a "good offer" to stay at the Scuderia, his desire to return to racing at the top level was too strong.
"I have to say they're not really happy about my decision. But I said to Stefano [Domenicali], 'This is my dream, to be in Formula 1, and I think this is the last chance to be a race driver'," Kobayashi said.
"He gave me a good offer but unfortunately I had to decide this way. This is all my decision and definitely I had to say to Stefano thanks for all the support last year. It was a very great experience for me but I'm here for Formula 1, not for driving GT."
When asked by Ted Kravitz if he had seen his Caterham discussions as a final throw of the F1 dice, the 27-year-old replied: "If I missed this year, I think it was over and that's why I tried to take this opportunity."
Caterham's decision to appoint Kobayashi as their experienced driver alongside Swedish rookie Marcus Ericsson meant that Heikki Kovalainen, who had been in the running for a return to race duties at the team, was overlooked despite the Finn still carrying out test driver duties for the outfit last year.
Team co-owner Tony Fernandes denied the fact that Kobayashi comes with some budget - the Japanese eventually raised around €8million from donations - was the factor that swung the decision the former Sauber driver's way, instead insisting that an exciting fresh face was what the backmarker outfit needed.
"No, it was six and half a dozen," the Malaysian businessman told Sky F1 about the deliberations between Kobayashi and Kovalainen.
"That's why we are so late, because yours truly here couldn't make a decision. It's no secret that I have a very fond affection for Heikki but in the end when we weighed up everything we just thought Kamui brought a new spark to the team.
"We wanted to shake it up a bit and not go for what everyone expected. He's a bit do-or-die, we may have more crashes, but he'll fight all the way and we thought that just might bring that little bit of spark to the team."
The Sky Sports F1 Online team will be providing live commentary of all three winter tests, starting in Jerez on Tuesday January 28, with live updates from trackside also on Sky Sports News.