Gerard Lopez insists Lotus will 'get the best out of Pastor' Maldonado
Team chief also reveals interest from rivals in Romain Grosjean
By Sky Sports Online
Last Updated: 21/05/14 10:49am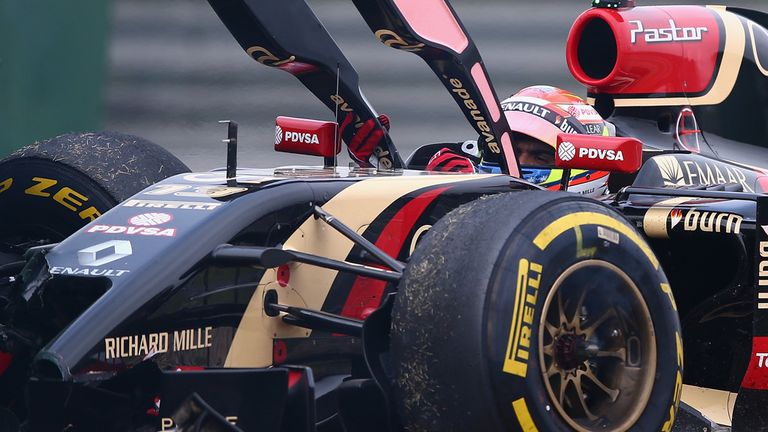 Maldonado is the only driver in the 2014 field yet to outqualify his team-mate after five races this season and has started at the foot of the grid three times, the most recent occasion coming in Spain when he crashed out in Q1.
The Venezuelan driver has also been issued with four penalty points on his licence by race stewards, the joint most of any driver since the new totting-up disciplinary system was introduced at the start of the season.
However, Lopez, Lotus's co-owner and Team Principal, says the Enstone outfit are not concerned by Maldonado's form and are eyeing a similar tutelage with the former GP2 champion as they had with Grosjean, who has emerged as one of F1's most consistent drivers since becoming involved in a string of first-lap incidents in 2012.
"It's a case of working with him [Pastor] to make sure he is comfortable," said Lopez ahead of this weekend's race in Monaco, a circuit which Maldonado triumphed three times on in the junior categories but has yet to see the chequered flag in F1.
"He had an easy weekend (in Spain) until qualifying, and he would easily have been in Q3. When I say 'easy', he pushed but didn't really have to push until he probably decided he had to push more in qualifying when it probably wasn't required.
"He's a driver who needs to understand that in certain circumstances, with his speed, then 95, 96, 97 per cent should get him to where he wants to be, and then once in Q3 give it 100, 105.
"We've lived partially the same thing with Romain, and people wrote him off, but now...we've people knocking on our door to see if he can be in their team. We will take a long-term view on things, so we're not particularly worried. We'll get the best out of Pastor.
"We think we can do the same with him, as we did with Romain, to ensure he is at his best every race weekend, and consistently throughout the weekend. I have a lot of faith in him."
Indeed, such has been the turnaround in Grosjean's fortunes since the Frenchman's erratic return to F1 two years ago resulted in a race suspension, that Lopez has revealed that the driver is being courted by rival teams.
"His drives last year meant there were a couple of teams knocking on the door to find out what he was doing, and now we've the same this year," said Lopez after Grosjean opened Lotus's 2014 points account at the Spanish GP.
"I'm not saying Romain is going, but what I am saying is that here is a driver who was criticised, and now suddenly people are saying he is a driver who could pretty much drive for any team."
The Monaco GP is live only on Sky Sports F1. The channel's extensive coverage begins with Practice on Thursday May 22.