Di Resta hails team effort
Paul di Resta paid tribute to Force India after ending a difficult Bahrain Grand Prix weekend by finishing sixth in the race.
Last Updated: 23/04/12 11:35am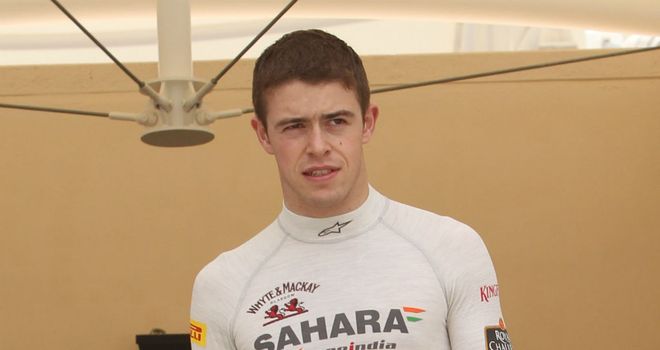 Force India driver Paul di Resta paid tribute to the efforts of his team after ending a difficult Bahrain Grand Prix weekend by finishing sixth in the race.
Four members of the team were caught up in protests on Wednesday night while travelling from the track to capital Manama, with two personnel subsequently opting to fly home.
The team then chose not to take part in P2 on Friday to ensure they would be able to return to return to their hotel during daylight hours.
When they returned to the circuit on Saturday, Di Resta qualified in 10th position before making a two-stop strategy work to perfection in the race - allowing him to equal his best ever finish in Formula One.
"It was an outstanding performance by every member of the team this weekend, and under difficult circumstances," The Scot said.
"It's been difficult for every team member, but every one of them has stood up. They played everything right - strategy, pit stops, I worked with my engineer to dial the car in right and the track came to us.
"Sixth position for us is a massive achievement, probably the same for us as Sebastian (Vettel) winning the race given the car we have.
Performance
"Looking at everybody's performance, we've stepped things up, tried to do our best and probably outperformed any performance we've ever had as a team."
Team Principal Bob Fernley, who was ultimately responsible for making the difficult decisions over the weekend, also said that he would be leaving Bahrain with "a feeling of pride".
He said: "We addressed something, we restructured our programme and we delivered. I think that goes to show the depth of the team through what has been quite a challenging weekend.
"Paul's result was tremendous. The boys and girls went through a tough few days, but it took all of them to deliver for him."
Fernley also remained adamant that he would not have done anything differently over the course of the week in Bahrain.
He added: "I don't think there was anything special there, and other team principals in my position would have done the same.
"It's just that we have a duty of care to our employees, and if that means it's a bit uncomfortable at the time for myself, then so be it. You have to deliver."