Daniel Ricciardo confident he would be able to mix it at Formula 1's top table in 2014
Red Bull contender also confirms he has just moved to Monaco
By James Galloway
Last Updated: 31/08/13 1:33pm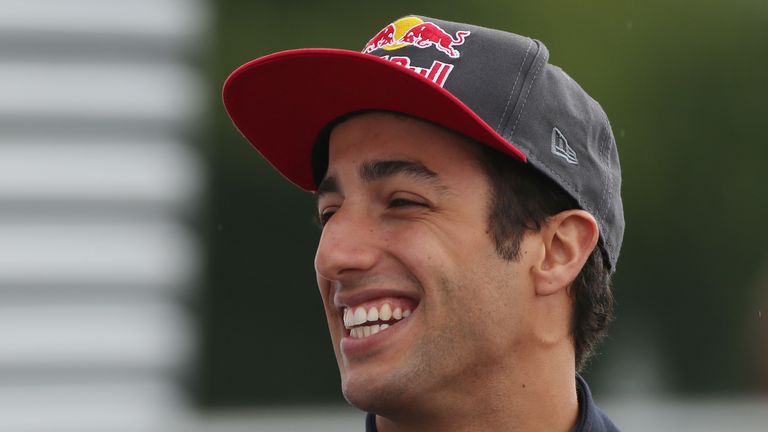 Although the World Champions have continued to hold off from making an announcement on the identity of Mark Webber's replacement for next season, and Christian Horner repeatedly insisted over the Belgian GP that they had yet to make a decision, most observers expect Red Bull to confirm Ricciardo as Sebastian Vettel's next team-mate possibly as early as next week's Italian GP.
But while the other driver who has been most strongly linked to the seat in recent months, Kimi Raikkonen, is a past World Champion and 20-time grand prix winner, Ricciardo has competed in just 42 races for HRT and Toro Rosso with a best finish of only seventh.
However, despite the prospect of arriving at Red Bull with no front-running experience in F1, Ricciardo believes he would be ready for the challenge.
"I am definitely aware that if I do get the opportunity to race alongside [Vettel], it is not going to be easy," Ricciardo said in an interview with the Daily Telegraph.
"But I would love to get the opportunity to prove to everyone that I have what it takes - and more than that, to know for myself that I can mix it with the big guys.
"If I can't, well, at least I can say I tried. But I believe I can."
Should Ricciardo, who also revealed he had just moved from Milton Keynes to Monte Carlo, duly be confirmed as Vettel's 2014 team-mate, then the 24-year-old Australian will widely be viewed as an effective number two to the triple World Champion given their respective experience and records in F1.
During the course of Webber's five years alongside Vettel, Red Bull have been at the centre of several 'favourism' rows but Ricciardo is confident he would be given an equal chance to race.
"I guess I only know what you guys know. Malaysia this year, Silverstone a couple of years ago," Ricciardo said. "But it's not something that I'm concerned with. From what I hear the team is very much interested in equality."
Amid reports in Germany that Ricciardo completed a seat fitting at Red Bull's Milton Keynes headquarters earlier this week, the Australian also responded to rumours that he might have problems fitting into one of Adrian Newey's famously tightly-packaged cars.
"I've got wide hips. It's not my a*** per se. I guess it's genetic," Ricciardo explained.
"Even when I signed for Toro Rosso we had to do a few seat fits and they did some scans to make that particular part of the cockpit a bit wider, so that we're not sitting on the actual carbon fibre.
"But yeah, I've heard that Adrian does like to build small race cars. I can't do much about it. Even if I go on a massive diet my hip bones aren't going to change."