Lewis Hamilton thinks it's 'great' to see Daniel Ricciardo getting chance at Red Bull
Merc man, meanwhile, looking to work on W04 braking at Monza
By James Galloway, and Mike Wise at Monza
Last Updated: 06/09/13 8:12am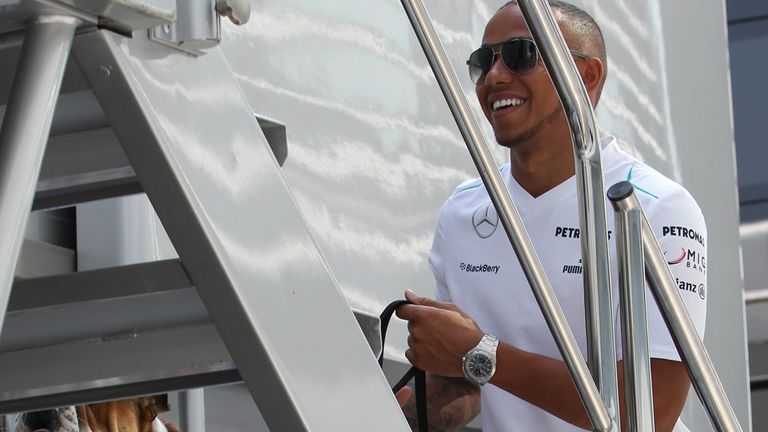 Although Ricciardo will make the step up to the World Champions next season with two-and-a-half seasons of F1 race experience under his belt, there are some comparisons to be drawn with Hamilton's own assent to a leading F1 race seat with McLaren in 2007.
Both drivers came through their respective teams' young driver programmes while Ricciardo, like Hamilton with Fernando Alonso, will be a team-mate to a multiple World Champion - Sebastian Vettel.
Six years on from that rookie season at McLaren Hamilton, now at Mercedes, admitted he was pleased to see Ricciardo get the coveted Red Bull seat.
In a wide-ranging chat with the F1 press pack on Thursday at Monza, Hamilton when asked if thought it was good to see a young driver getting a chance with the World Champions, replied: "I think it is. It's great. It just makes sense; it's not a surprise to me to hear it.
"Considering they [Red Bull] do have a young driver team, at least we're all led to believe that that is to bring on young drivers, it's good for them to actually put that method to work.
"He'll come in and he'll have a great car next year, a lot of people will be 'damn, I wish that I had that seat' - I'm sure a lot of people will be saying that!
"I'm not one of those because I have a good car, so I feel like next year I'll have even a stronger chance [of being successful].
"But really happy for him and I hope that he's able to handle the pressure, which is going to be a lot of pressure for any youngster that goes into a top team like that. But I'm sure he'll be fine."
Asked how he himself handled the pressure of his first season in a top car, Hamilton added: "When I came into it I had already had that pressure for a long time as I'd been a part of McLaren for a long time and every year I felt like I had to win. I had a huge amount of belief in myself, everyone told me I was going to be a lot slower than Fernando but I knew they were wrong. I came in and I attacked and the first race was one of the best races I ever had in Formula 1 - or at least the first corner was!
"But he [Ricciardo]'s done a lot of work already to prepare himself, he's fit enough, he's got the experience, so I think it will just be a natural progression into a faster, better car."
While Ricciardo will have to wait another six months before he likely gets a taste of competing for wins and podiums at the front of the field, Hamilton heads into this weekend's Italian GP with those very goals in mind as he aims to claw back some of Vettel's large championship lead.
Mercedes ultimately experienced a slightly disappointing Belgian GP as Hamilton slipped from pole, his fourth in a row, to third place at the end of the race with the W04 not displaying as strong long-run pace as expected around Spa.
The team have refined their low-drag package for this weekend and Hamilton admitted the rear wings he saw in their garage on Thursday did fill him with hope - although stressed that Mercedes were set to face fierce competition from both Red Bull and Ferrari this weekend.
"Every weekend with this car, as Nico [Rosberg] has said many times and we've said many times, it's great to come to the race knowing that we have a strong package. But of course in the last race, if it had been dry, we definitely wouldn't have been on pole," he reflected.
"Every time I go away from a race I feel like I've reset and I come back here being very optimistic for the weekend. After being in the garage looking at the [rear] wing, the downforce level looks good - maybe when we get out there it might be too little, it might be too much, who knows? -but I'm ready to get another pole. But the Red Bull is incredibly quick and I think the Ferrari will be quick this weekend. So who knows? It's difficult to say what's going to happen.
"Pole position is very important and it really does help when you're at the front to stay out of trouble at turn one and it's much easier to lead from the front here."
Hamilton also explained that in addition to Mercedes' usual work during Friday practice he would be playing particular attention to the brake settings on his W04, given he still doesn't feel completely happy with that area of his new car.
"My biggest concern is braking, so that's going to be my real target to really focus on maximising braking stability and getting the most out of the brakes," he said.
"Having that confidence to really attack them, which I've had for so many years and I still don't feel like I really have that now.
"There's no reason why this weekend's going be any different but that's just a particular point that I need to focus on more."
Asked to elaborate on why he wasn't yet completely comfortable on the brakes, an issue he first flagged up at the Monaco GP in May, the 2008 World Champion said: "The car is different to the McLaren, it behaves differently, it pitches differently.
"It's just the way the technology is now in Formula 1, there are some things that we benefit [from] elsewhere but hamper the car, at least for me, a little bit under braking. It's something we are working on and we can improve on."
And, to underline that situation, Hamilton admitted he wouldn't currently have the confidence to repeat the ultra-late outbraking move on then Ferrari rival Kimi Raikkonen into the first chicane that he famously produced at Monza back in 2007.
"I think if I did that now I'd probably go straight on! I definitely don't have that feeling to do a move like that in this car," he added.