Daniel Ricciardo his hoping for more from his low downforce Toro Rosso in the Italian GP
New Red Bull recruit produces another strong qualifying performance
By Mike Wise in Monza
Last Updated: 07/09/13 9:07pm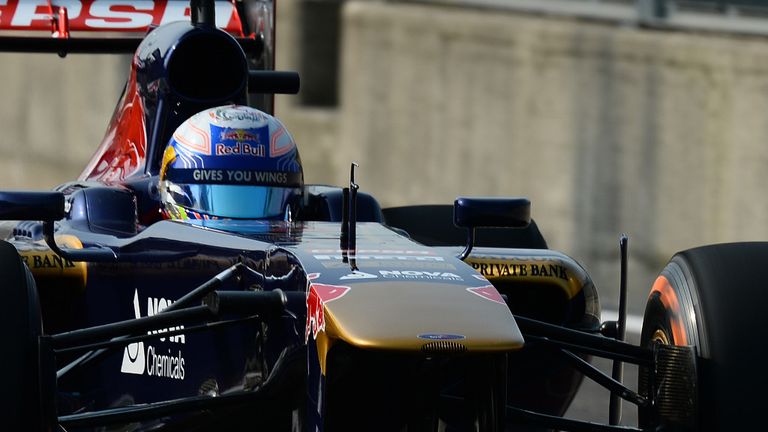 Red Bull's 2014 recruit produced yet another strong qualifying performance at Monza to line up seventh on the grid. Team-mate Jean-Eric Vergne also qualified in the top ten after Toro Rosso opted to go super-skinny on their cars' front and rear wings.
All teams bring special low downforce packages to Monza but the fact that Ricciardo's car was fastest of all in terms of maximum speed, clocking in at 340.4 km/h, told its own story.
"Looking at the sector times, you don't have to be Einstein to figure out that we're running quite low downforce," he said.
"Sector two hurts us but obviously tomorrow I think it should help us for defending or attacking. It's what we've decided to do this weekend and let's hope it works out for tomorrow."
Ricciardo also admitted the decision was responsible for his brief departure from the track during Q3 exiting the Lesmo bends.
Vergne kicked up considerably more gravel when he ran wide exiting the Parabolica moments later but his team-mate thinks full tanks at the start of the race should ease the problem.
"A fast car is never an easy car to drive. It is a little bit tricky and obviously a few mistakes came during the session. I had a bit of an off as well in Q2 in the second Lesmo," Ricciardo admitted.
"We did suffer a little bit and we are sliding around a little bit with quite low downforce but it's the path we've chosen and we feel we should be all right for tomorrow.
"It's the same as what I had yesterday as well and the long runs didn't seem too bad.
"Once we put fuel in there everything seems to slow down and it gets a little bit away from the knife-edge, so I think for a long run it should be a bit easier to manage."
Ricciardo also admitted he was surprised to qualify so well after a difficult Friday practice, when the downforce setting on his car was identical.
And with showers forecast for Sunday, the 24-year-old added that the prospect of rain holds no fear for him.
"I don't know if the track came to us as well, because we didn't change the car completely. It was a bit of a surprise to see how much quicker we are today," Ricciardo said.
"I think in the wet we should be competitive, yes, but I also believe we should be okay in the dry. I'm not too concerned.
"I definitely feel we have a good chance to get a good amount of points tomorrow."