Sebastian Vettel: Inexperience of Daniel Ricciardo not an issue for Red Bull in 2014
German thinks a driver's work ethic is bigger 2014 key
By James Galloway
Last Updated: 19/09/13 4:33pm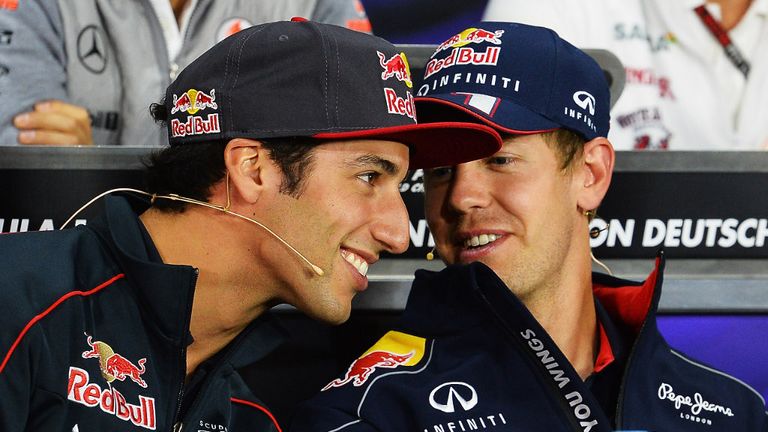 In confirming the return of the 33-year-old Kimi Raikkonen to Maranello partner the 32-year-old Fernando Alonso in an all-World Champion line-up for next season, Ferrari have made it clear they believe it is vital to field experienced drivers to combat the sizeable challenges that will accompany the advent of all-new turbo engines.
That belief was echoed by Alonso in Singapore on Thursday with the Spaniard telling reporters that, upon learning of Ferrari's intention to replace his current team-mate Felipe Massa, he told his bosses to move for Raikkonen as "especially with a Championship with many changes next year, in terms of developing the car in January, February, a team-mate who has many years in Formula 1 was important".
While the move to bring Raikkonen back to Maranello means Ferrari will boast a line-up with a combined total of over 400 starts and more than 50 wins, World Champions Red Bull are pairing their triple title winner Vettel with the relatively inexperienced Daniel Ricciardo.
In contrast to Raikkonen and Alonso's sustained F1 successes over more than a decade, Ricciardo's best finish in 43 starts is seventh place. Vettel, however, believes that as the 2014 engine rules are new for everybody, a driver's work ethic will count for more than their experience.
"The best way to build up experience is to practice. For next year with a lot of new things coming in it probably doesn't matter so much whether you've been around the last couple of years," the German said on Thursday.
"The more important thing will be how determined you are and how willing you are to work, to develop, to try and push the team and the car forward with all it needs - the hours here on the track, back in the simulator.
"So I think there will be a lot of boring work to do for the drivers, but equally, it's part of the job and it will drive you forward when it matters on the track."
Although Vettel and current team-mate Mark Webber are 2013's most successful team-mate pairing, the widely held perception this year is that Mercedes, with Lewis Hamilton and Nico Rosberg, have the strongest line-up.
Ferrari's blockbuster pairing for 2014 is set to tilt that particular competition in Ferrari's favour - with Hamilton himself admitting as much on Thursday - but Vettel insists Red Bull have been right to promote Ricciardo from within the Red Bull stable.
"I think it's the right choice for us. As I said in Monza, it's a great message to young drivers, a great message to Daniel to give him the chance," Vettel said of the Toro Rosso youngster.
"Next year will be a lot of new things for all of us, so we'll have to wait and see, but I think we should be a strong team and that's really what matters."
Before Red Bull named Ricciardo as Webber's replacement for next season, both Raikkonen and Alonso, albeit briefly, were linked with the vacant seat alongside Vettel.
Although insisting he didn't have a preference for who the team selected to be his next team-mate, Vettel nonetheless made clear that he would have preferred Raikkonen to Alonso alongside him.
With the pair to now unexpectedly go head-to-head at Ferrari, Vettel isn't expecting the apolitical Raikkonen to rock the boat.
"I know Kimi better than [I do] Fernando," the 26-year-old added.
"He has been to Ferrari before. He's very straightforward, you don't get any complications or politics with him. So we will see how it works next year.
"Obviously it's a new year so difficult to expect anything for us, for them, for anyone because it's completely new regulations that we will face."