Daniel Ricciardo reached Q3 again in Singapore but is cautious ahead of the race
Aussie looking over his shoulder at rivals with fresher tyres
By Mike Wise in Singapore
Last Updated: 21/09/13 7:57pm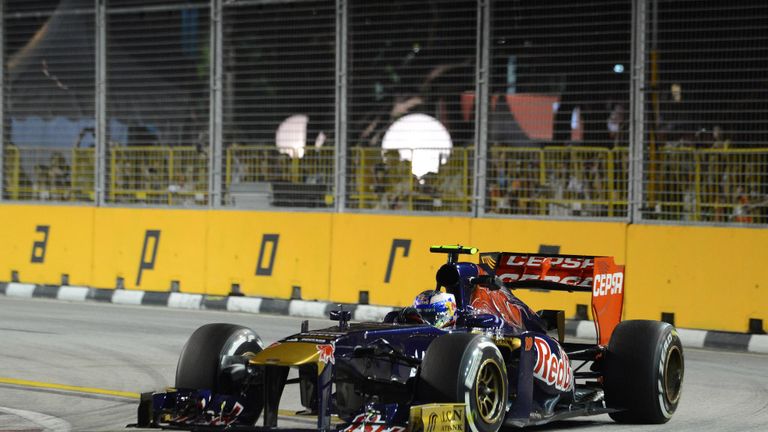 The Red Bull-bound Australian made it through to Q3 for the fifth time in six races on Saturday, even though he had anticipated a difficult weekend for Toro Rosso on the Marina Bay street circuit.
Forced to start the race on the supersoft tyre, however, Ricciardo is wary that rivals starting Sunday's race directly behind him might put their fresher sets to better use during the closing laps.
"It's nice to stay in qualifying for that full hour again; we've made a good habit of it lately. Looking back to last year, we had two Q3s all year and this year we're up to seven or something like that. We've had a pretty good run," the 24-year-old said afterwards.
"This isn't a circuit we expected to be that strong on, so I'm happy. Hopefully we can put it into some good race pace as well tomorrow and hopefully those guys who went out in Q2 don't make too much use of those new supersofts.
"I don't expect it to be the race tyre, but if the guys are going to put it on in the last stint of the race, say ten laps, I think it's going to give quite a good advantage over a short period of time."
Ricciardo said Toro Rosso's upgraded high-downforce package, which last saw the light of day in Hungary before the summer break, had played a part.
"We bring new bits and pieces to every race but this one was more than one piece, bodywork and a few other things. It's definitely kept us in that top ten window we've been fighting in the last few races, so that's good," he said.
"It's a circuit, as I said, that we'd probably have expected to fall out of that window on but with the work the team's put in back home in Italy and in England, it's kept us there."
Looking ahead, Ricciardo summed up his race-day approach as follows: "I think for me it's a case of head down, hopefully get a good start, get away from the guys who will have that fresher tyre later on, if they choose to use it then, and stay in the points.
"I don't expect it to be our easiest Sunday but at the same time we qualified in the top ten because we've got the pace. I think if we can use it in the right way then we should stay there."