Sebastian Vettel is anticipating a 'tricky' weekend at the Bahrain Grand Prix
World Champ thinks Sakhir track might play into the hands of Mercedes
By Mike Wise in Manama
Last Updated: 04/04/14 7:59am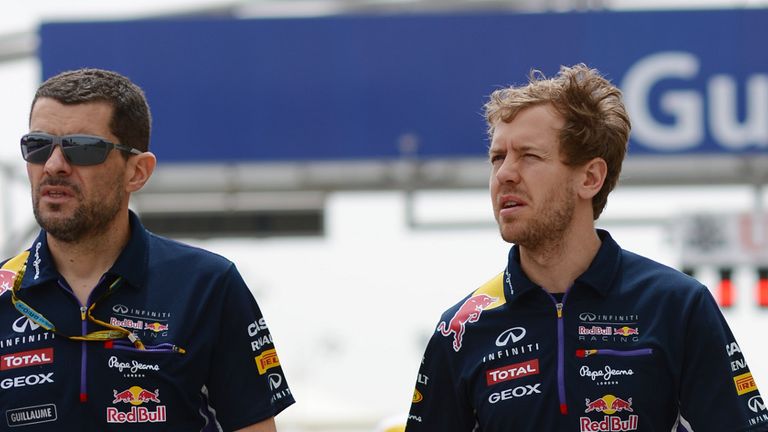 The World Champion finished 'best of the rest' behind Lewis Hamilton and Nico Rosberg in Malaysia last weekend, a result that suggested Red Bull have made definite improvements with their RB10 since the reliability woes they suffered in winter testing, which ended in Sakhir just over a month ago.
But with Mercedes enjoying a clear power advantage over their rivals, Vettel thinks the 5.412km Bahrain International Circuit will suit the Silver Arrows even more than Sepang did.
"Around here it's a tricky one. Obviously you've got a lot of straights; I think we've got to save fuel on Sunday, quite a lot more than in Malaysia - that's just the nature of the track," he said.
"I think we've seen throughout testing and the first couple of races, Australia and Malaysia, that Mercedes are the favourites. They have the strongest package; they're way quicker than us down the straights.
"It will be difficult but equally the first two races were very positive for us. We've learnt the car is quick and has potential. It's up to us to get the best out of ourselves and then we'll see where we are."
Vettel reckons that Red Bull are making "big steps" at present but with Renault also working hard to improve its power unit, he refused to speculate on when they might be able to challenge Mercedes.
"On every circuit you have straight lines and at the moment it's not a secret. Look at the speedtraps: we know we are slow, including many other teams that are too slow to challenge them," he said.
"There's too much time that we lose there. But that's not a complaint. Fair enough, they did a very good job so they deserve to be in that position.
"I think we're already much closer than we thought, and everyone else thought, which is a strong point, and all we have to focus on are the fights that we can fight right now.
"At the moment we seem to make big steps, which is good. We just need to ensure our steps continue to be bigger than the steps other people are making."
With Red Bull on the back foot, damage limitation is even more of the essence for Daniel Ricciardo this weekend after he picked up a ten-place grid penalty following an unsafe pit stop release by the team at Sepang.
The Australian is taking the "severe" penalty in his stride but forced to line up 11th on the grid at best, he admits he might set up his car in a low downforce configuration in order to make headway in the race.
"I've had some time to think about it all and there wasn't too much for me to think about really," Ricciardo said.
"The team assured me they'll do what they can to fix it and do their best not to let it happen again, especially now it is a pretty severe penalty."
The 24-year-old added: "Obviously I'm going to have to do some overtaking if I want to move forward; maybe a low downforce setting will be beneficial.
"It's always a compromise: how many grid positions you sacrifice in qualy to make the race car better, but if I could choose one or the other then I'd definitely like to set the car up for Sunday and charge hard."