Daniel Ricciardo admits Mercedes still out of reach for Red Bull on home soil
But Aussie expecting Champions to be closer than on Friday
By James Galloway
Last Updated: 20/06/14 6:44pm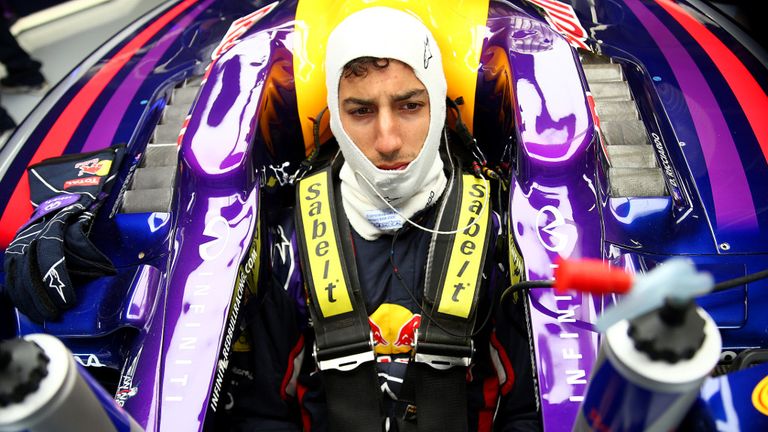 Daniel Ricciardo is confident Red Bull won't be as far adrift of Mercedes as they were on Friday by the time of qualifying at the Austrian GP – but F1's newest race winner admits the World Champions are braced for a 'best of the rest' battle at their home event.
Although the Australian broke Mercedes' six-race winning run in 2014 a fortnight ago in Montreal, neither the driver nor his Red Bull team are under illusions about the RB10's deficit in outright pace to the dominant W05.
With Ricciardo having already suggested heading into the weekend that it is likely to be after the August summer break before Red Bull can think about getting on terms with their rivals, the Australian and team-mate Sebastian Vettel finished over a second off the pace in Practice Two on the team's home circuit on Friday.
Ricciardo believes that while his team have more relative time to find than pacesetting Mercedes, he says it's the battle for third place that is their immediate focus after Ferrari and Williams both ran strongly in P2.
"We're still that gap off which each race we hope we're going to close, but at least today it's still there," the Canadian GP victor acknowledged.
"I think we have a bit more time tomorrow than they do to find, so I think we'll close the gap. It won't be over a second tomorrow, but I guess the best thing for us to make sure we're in front of the others and try to be the next best.
"If we get it all right we can definitely be top five. To be top three it looks like more challenging this weekend, but I believe we can get there so let's aim for at least the top five and anything better we'll be happy with that."
The Australian, who finished two places behind Vettel in eighth on the afternoon timesheet, was one of a host of drivers to be tripped up by the challenging nine-corner circuit and is therefore predicting a particularly fraught qualifying hour.
"The circuit's fun. It's only a short lap but it's quite good, it's busy. We climb a lot in the first sector but then we're dropping downhill for the rest. The second and third sector are really flowing, you can take a good rhythm through some of the corners, and it's also challenging.
"A lot of drivers went off today – myself included – so I think everyone will be right on the edge for qualifying."
This weekend's Austrian GP is live only on Sky Sports F1. Race Day coverage begins with the Track Parade at 11.30am on Sunday