Daniel Ricciardo wants to keep up the winning habit at the British Grand Prix
Red Bull driver hopes to capitalise if Mercedes falter again
By Mike Wise
Last Updated: 02/07/14 8:10am
Daniel Ricciardo might not be among the favourites for Sunday's British GP but after ripping up the formbook in Canada, the Red Bull driver reckons he can take advantage should circumstances fall in his favour again this weekend.
The Australian heads to Silverstone lying third in the Drivers' Championship after a hugely impressive start to his career with the World Champions.
Not only has Ricciardo outperformed Sebastian Vettel so far this season, he was also on hand to pick up both the first win of his F1 career, and Red Bull's first victory of the season, in Montreal after runaway leaders Mercedes were hit by reliability problems.
Nico Rosberg and Lewis Hamilton start as clear favourites to prevail once more this weekend but having made his big breakthrough, Ricciardo is keen to hold on to the winning habit.
"I really believe so, I certainly hope so," he told Sky Sports News. "But we'll be ready if we get that chance. As we showed in Canada, we were able to capitalise and hopefully the rest will just come easier now.
"It's a track that Red Bull know well, they've had a lot of success there in the past so I'm optimistic for it but let's just see how we get on in Friday practice and go on from there. But it's a track I really love," added Ricciardo, who turned 25 on Tuesday.
It was at Silverstone 12 months ago that Ricciardo started to underline his candidacy for the Red Bull role: no sooner had Mark Webber announced his retirement at season's end than his countryman qualified his Toro Rosso a fine fifth on the grid.
It was one of a series of strong performances that helped Ricciardo get the drive. But even though he has outshone Vettel – the defending champion currently trails by 23 points and has also been outqualified six times – he says their relationship is amicable enough.
"Really this year, it's been really smooth sailing on both of our sides in terms of the relationship within ourselves, the team. He's shown a lot of respect for me coming into the team and not tried to play 'the big man' or intimidate me in any way. So it's good," he insisted.
"Obviously he wants to start getting better results but it's just going to push both of us, hopefully, towards that higher spot.
"I definitely feel I'm doing the job I hoped I would do and I know the team even said I've exceeded some of their expectations, so I'm doing well; I've just got to keep doing what I'm doing."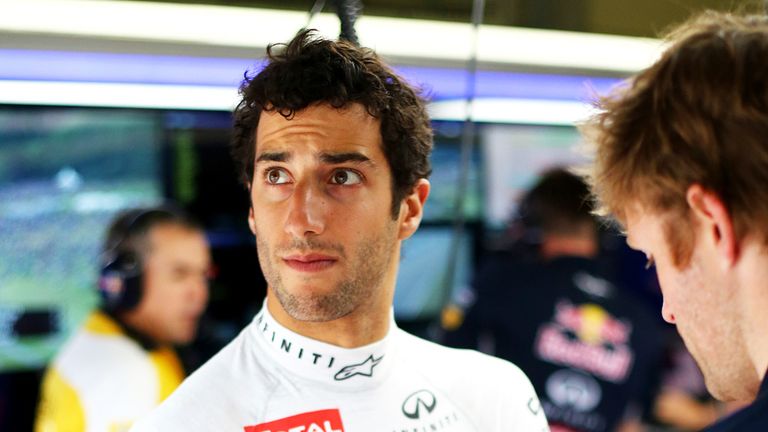 Ricciardo – who still has a mathematical shot at the title himself – also gave his assessment of the ongoing battle between Rosberg and Hamilton.
The German, who currently holds a 29-point lead over his team-mate, has enjoyed a more consistent season to date while Hamilton has suffered more mechanical problems.
"Obviously they can both drive and they've both been very close all year, so whoever wins the title, if it is just down to those two, it's just going to come [down to] whoever's stronger upstairs," Ricciardo added.
Watch the 2014 British GP live on Sky Sports F1. Extensive coverage of the Silverstone race weekend begins with Friday Practice from 9.45am on July 4.