Toro Rosso's Daniel Ricciardo and Jean-Eric Vergne both feel they're ready to step up
Toro Rosso youngsters feel ready to replace Webber
By Mike Wise at Silverstone
Last Updated: 29/06/13 7:49am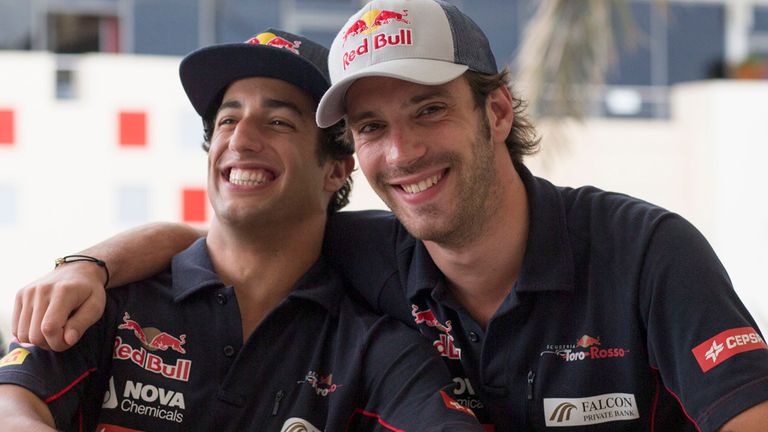 The Toro Rosso pair, seen as candidates to replace the Australian, who is quitting Formula 1 at the end of the season to race sportscars for Porsche, both reckon they're ready to step up.
But how to catch the eye of Red Bull bosses? That's where differences of opinion emerged.
On the question of their readiness, the chorus was unanimous. "Yes. I don't what else to say but yes," was Ricciardo's response to the prospect of taking his countryman's seat.
Vergne's reply reflected the role Red Bull have played in the progress of both youngsters. "Definitely," he said. "It's a team I'd love to race for. Red Bull gave me my chance in F1 and to make what I love my career."
It sounded a little like F1's very own version of 'The Apprentice': two hopefuls pitted against each other with the sport's most prized seat on offer to the winner.
They don't, of course, overplay their undoubted brilliance and willingness to 'give it 110 per cent'. Yet both are excited now the opportunity has finally presented itself.
Of the two, it is Ricciardo who feels he has more to prove. The 23-year-old finished seventh in China earlier this season but knows that the ebb and flow of competition between the two currently favours Vergne.
"Unfortunately, I've had a pretty poor run the last two races so my priority now is to get some results back on the board," Ricciardo said.
"So I don't really have the bragging rights to say, 'That's mine everyone'. I've definitely got to focus on the next few weekends to remind everyone that I'm here to be successful and hopefully those results will show soon and then we'll see what happens."
The timing of Webber's announcement is particularly sweet for Vergne, who is coming into this weekend's British Grand Prix having scored the best result of his Formula 1 career to date, sixth place, in Canada three weeks ago.
The 23-year-old also finished eighth at the previous race in Monaco. Little surprise, then, that he questioned the need to do anything different.
"It makes no sense to me. I'm not thinking of it - I always try and give my best and I'm not going to change anything right now because Mark decided to leave his seat. It changes nothing for me," Vergne said.
"I'm just going to do the same job as usual, not put myself under any extra pressure and that's it."
Ricciardo and Vergne are not the only candidates, however. The prospect of Kimi Raikkonen partnering Sebastian Vettel next season looms increasingly large.
Vettel remains the only Red Bull-backed driver to rise through the ranks to the very top and while Ricciardo acknowledged the unwanted obstacle that could prevent him joining the triple World Champion, Vergne once again preferred to play it cool.
"In a perfect world, I'd love one of us juniors to go through and do what Seb did. I think that's their real philosophy and programme. I think they'd love to see one of us start to shine and get a string of awesome races and turn heads. That'll make the decision easy for them," Ricciardo said.
"If they choose someone like Kimi, okay he's experienced, he's a World Champion and they're a World Championship-winning team - you can't argue with something they may end up doing.
"For me, I've got to make sure I get the next few races the way I want them to and at least I can say, 'I've done all I could'."
"I'm here to do a job at Toro Rosso and try not to look at what everyone else says," Vergne added. "If I start thinking, 'Maybe I could get a World Champion car, maybe I could stay here, maybe I could go away from F1' then you start losing your focus and that's not what I want."